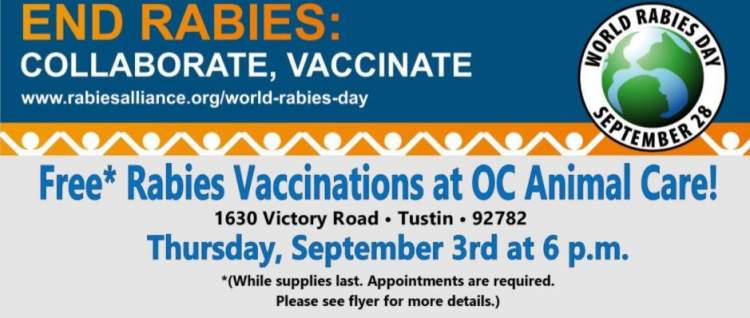 In honor of World Rabies Day, there will be Free* Rabies Vaccinations on Thursday, September 3rd at 6 p.m. at the Monthly Low-Cost Clinic hosted at OC Animal Care! While supplies last. Three vaccines per household.
Lets collaborate to vaccinate during this annual event with services provided by HEART – Healthcare & Emergency Animal Rescue Team!* Please note appointments are required for this service.
The first 100 rabies shots will be free with the exception of the 3 year Purevax Feline Rabies vaccines which will receive a $26 credit.
To make a reservation click here. Reservations are required! OC Animal Care is located at 1630 Victory Road, in Tustin.
World Rabies Day is held annually to raise awareness about rabies prevention. Rabies is 100% preventable, but the CDC reports that more than 59,000 people die from the disease annually all over the world. The only way to help eliminate this deadly disease is to vaccinate! As a pet owner it's your responsibility to make sure your pets are up-to-date on their vaccinations.