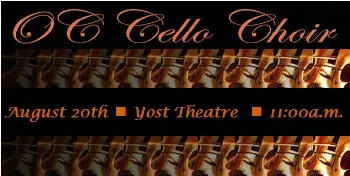 Please join the OC Cello Choir in our first public performance scheduled for Saturday, August 20th at 11am. Cellists from around Orange County will gather together to celebrate the beautiful resonance of the cello through a performance including classical, pop, rock, and folk melodies.
Works will include music ranging from Bach to Henry Mancini to Enya to Coheed and Cambria. We are fortunate to have the opportunity to performing in the newly renovated Yost Theater. As such, this concert will be a rock-star experience not to be missed!
DETAILS: Saturday, August 20th, 2011 – 11am (the show will begin promptly) The Yost Theater, 307 N Spurgeon St, Santa Ana, CA 92701 Free Admission – Please Spread the Word! Click here for more information.
Refer to the attached FLYER  for additional information.