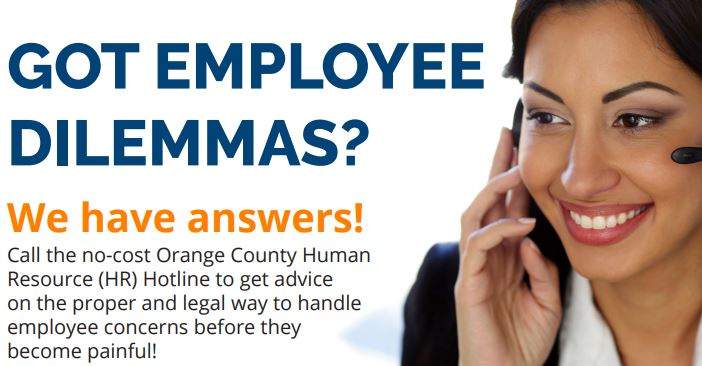 SANTA ANA, Calif. (June 30, 2021) – In partnership with the Orange County Workforce Development Board (OCWDB) and California Employers Association (CEA), the County of Orange is providing monthly webinars and a free hotline to assist Orange County employers with Human Resource (HR) support.
The HR Hotline is available to any business in Orange County in 240 languages and provides expert guidance on basic human resource questions including, but not limited to:
• Claims for Unemployment Insurance, Labor Commission, and/or Discrimination
• COVID-19 Related and Return-to-Work Inquiries
• Employee Discipline and Termination
• Employee Handbooks
• Employee and Labor Relations
• Harassment Prevention
• Paid Sick Leave Laws and Family and Medical Leave Act (FMLA)
• Workers' Compensation Regulations
• Workforce Training
The HR Hotline will go live beginning Thursday, July 1, 2021, and operate Monday through Friday from 8 a.m. to 5 p.m. Employers can call the HR Hotline toll-free at (888) 589-7577. Businesses can register for monthly webinars at no cost in English and Spanish on various HR topics at oconestop.com/business-resources.
For more information, visit oconestop.com or call the Orange County Economic and Business Recovery Call Center at (714) 480-6500.
The Orange County Development Board, through the Orange County Business Service Center and Orange County One-Stop Center, offers comprehensive services such as hiring assistance, career transition services, and employment services to businesses and job seekers at no cost.