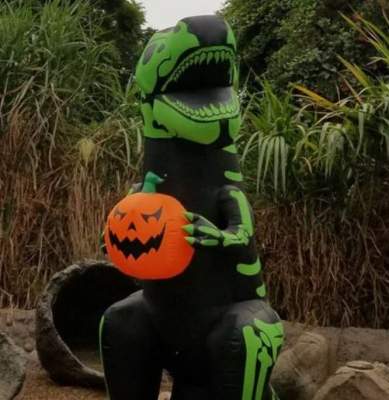 Santa Ana residents can join the Santa Ana Zoo for special zoo hours on Oct. 26 and 27, 5:30 to 7:30 p.m., during Boo at the Zoo Community Nights.
During the walk-through experience, visitors can follow a fun Halloween trail through the Zoo. Visitors will discover the "merry, not scary" decorations along the way, making this an activity the whole family can enjoy together, wearing family-friendly costumes and collecting goody bags for each child when leaving the zoo.

Due to current COVID-19 recommendations and to create an allergy-friendly experience, goody bags will not include candy.
Community Nights on Oct. 26 and 27 are only available to Santa Ana residents. Free tickets must be reserved in advance. Choose your admission time, 5:30 p.m. or 6:30 p.m. Space is limited and proof of residency (driver's license, utility bill) will be required upon arrival. Not valid for school or business addresses.
To RSVP, please visit: https://www.eventbrite.com/e/boo-at-the-zoo-community-nights-tickets-124355184705
Face Covering Policy: All guests 2 years of age and older must wear face coverings while in the zoo, including guests who choose to wear costumes. Masks that are part of a Halloween costume do not replace COVID compliant face coverings.
To purchase admission tickets for additional dates, October 28-31, please visit:
www.santaanazoo.org/boo.htm
For additional information, please call the Zoo at (714) 647-6575.
Boo en el Zoológico Noches Comunitarias para Residentes de Santa Ana
Los residentes de Santa Ana pueden reunirse al zoológico de Santa Ana para el horario especial del evento, Boo en el Zoológico Noches Comunitarias, el 26 y 27 de octubre de 5:30 p.m. a 7:30 p.m.
Durante la experiencia de recorrido, los visitantes pueden seguir un divertido sendero de Halloween a través del zoológico. Los visitantes descubrirán las decoraciones "alegres, no aterradoras" a lo largo del camino, haciendo de esta una actividad que toda la familia puede disfrutar junta, vistiendose en disfraces familiares y recolectando bolsas de obsequios para cada niño al salir del zoológico. Debido a las recomendaciones actuales de COVID y para crear una experiencia apta para personas alérgicas, las bolsas de golosinas no incluirán dulces.
Las noches comunitarias del 26 y 27 de octubre solo están disponibles para los residentes de Santa Ana. Las entradas gratuitas deben reservarse con anticipación. Elija su hora de admisión, las 5:30 p.m. o las 6:30 p.m. El espacio es limitado y se requerirá prueba de residencia (licencia de conducir, factura de servicios públicos) a la llegada. No válido para direcciones escolares o comerciales. Para confirmar su asistencia, visite:
www.eventbrite.com/e/boo-at-the-zoo-community-nights-tickets-124355184705
Política de cubiertas faciales: Todos los visitantes de 2 años de edad o más deben usar cubierta facial mientras estén en el zoológico, incluidos los invitados que decidan usar disfraces. Las máscaras que forman parte de un disfraz de Halloween no reemplazan las mascarillas faciales que cumplen con COVID.
Para comprar boletos de admisión para fechas adicionales, del 28 al 31 de octubre, visite: www.santaanazoo.org/boo.htm
Para obtener información adicional, llame al zoológico al (714) 647-6575.