Honoring Our Heroes: Fairhaven Memorial Park's 24th Annual Memorial Day Service
Join Fairhaven Memorial Park on Memorial Day to reflect and thank the men and women who courageously fought for our freedom.
At 10:30 a.m. on Monday, May 30, more than 3,500 individuals will gather at the "Honoring Our Heroes" Memorial Day service to pay tribute to fallen service members.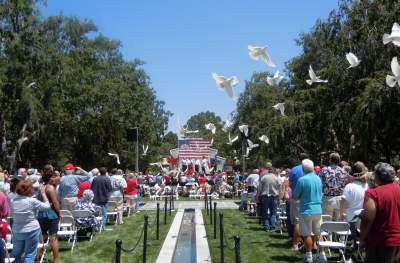 The 24th annual event will feature a host of event elements including: inspirational speeches from veterans, a performance of the National Anthem by our 2016 "Star-Spangled Singer" contest winner, a military honor wall, the "Parade of Flags," "America's Wars" a life-size photo essays, an aerial flyover of World War II-era planes by Memorial Flights and more.
Complimentary hot dogs and refreshments will be served.
Date and Time:
Monday, May 30, 2016 @ 10:30 a.m.
Location: Fairhaven Memorial Park @ 1702 E. Fairhaven Ave, Santa Ana, CA 92705
Cost: Free
For more information click here