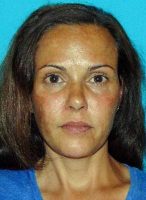 The Tuolumne County Sheriff's Office Thursday arrested Nadia Davis Lockyer, 46, of Long Beach, a former SAUSD School Board Member and a former Alameda County supervisor, who is the wife of Bill Lockyer, a 76-year old former California attorney general, at a Twain Harte vacation home on suspicion of battery on a spouse, according to the Union Democrat.
The Sheriff's Office received a call from inside a home on Fireside Drive near Twain Harte Lake at about 10:55 a.m. The caller said an intoxicated woman was yelling and throwing things. That woman turned out to be Nadia.
Apparently Nadia's antics resulted in a minor injury to her husband, Bill.
The charge is a misdemeanor. Her bail was set at $5,000. As of 8 p.m. Thursday Lockyer had not posted bail.
Nadia also had a blood alcohol content of .22 percent at the time of her arrest, according to the Modesto Bee.
Oddly on June 20, Nadia posted this message on her Facebook page – "This may be a few days late, but we were happily being a family, grateful for the man that made and makes it so – Happy Fathers Day to the bestest of mans I could've ever hoped to make babies with! Your children are blessed to have you as their papa."
Long Beach police responded to a domestic disturbance call at the Lockyers' home on March 28, according to The Sacramento Bee. The police report listed Nadia as a suspect, but did not name any victims.
Nadia's current troubles were hinted at in a post on her Facebook page on Wednesday, that stated that she loved her husband but could no longer stay married to him. The post has since been deleted but it read in part:
" He hits, hurts me, yells, and I care for my children in between…then he calls people in control to manipulate the situation. I don't have many options when your hubby is the former "top cop" and is addicted to Ambien."

"With a huge broken heart and bruises, I'm filing for legal separation. Please keep us in your prayers. This is my final post for a long while," she said.