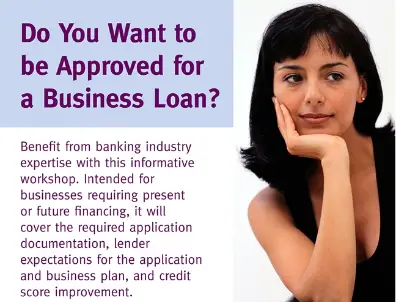 California Small Business Development Center and the National Hispanic Business Women Association present:
Do You Want to be Approved for a Business Loan?
Event Status: Open Event Fee: $25.00
Event Date: 7/24/2012 Register By: 7/24/2012
Time: 6:00 p.m. – 8:30 p.m.
Contact: Elizabeth Arteaga, (714) 564-5200
Center: Orange County SBDC
Event Location: 2323 N. Broadway, Santa Ana, CA 92706-1606
Description: This informative workshop will cover required application documentation, lender expectations for the application and business plan, and credit score improvement. This seminar will provide an excellent opportunity for business owners to benefit from the expertise of the banking industry. This training is appropriate for a business presently requiring financing or planning for future financing.
Topics: Business Financing
Instructions: In partnership with the Orange County Hispanic Chamber of Commerce
Registration and Fees: Payment of seminar fees may be made cash or check payable to RSCCD.
Special Accommodations: In accordance with the American Disabilities Act and state law, you may request accommodations due to a disability by contacting the event organizer listed above. Advance notice may be necessary for some accommodations. Registration must be paid prior to accommodation requests.