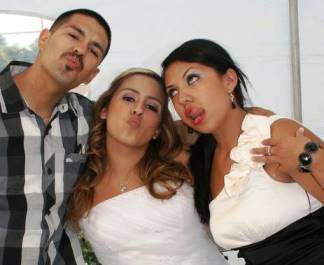 In a city awash with domestic violence incidents, as we report in our Daily Santa Ana Crime Reports, an incident on October 5, 2013, stands out.
Anthony Angel Gomez, who was 31 years old, died after he was badly injured during an incident involving his wife, Paulina Lugo Gomez.  They were separated at the time.  On the day in question they were having an argument, at 10th and Lowell Street, when Paulina took off in a vehicle and Anthony reportedy tried to jump onto it.  He fell and ended up with severe head trauma.
Anthony's family is looking for answers.  They believe that Paulina was behind the wheel and their two minor children were present at the time.  But no other witnesses have stepped up.
The Santa Ana Police Department was called that day at 3:29 pm and at 5:30 Anthony was transported to Western Medical Center where he later died on Oct. 12, 2013.
Anthony's family, which resides in Riverside, was not notified of the incident until two days later on the night of Oct. 7. When they arrived at Western Medical Center, in Santa Ana, they were informed that Anthony was a John Doe and no one had came to visit him since the incident.
Anthony's parents, sisters and family members stayed at the hospital 24/7, hoping and praying that Anthony would awake from his coma. They went to the SAPD onOct. 9, 2013, to seek answers on why no one was arrested after the incident.   Domestic violence detectives informed them that the case still had not been assigned to a specific detective and that the report still had not been typed up.  They also said that sometimes when police are called out to domestic violence calls they do not treat the case seriously and sometimes produce lackluster reports, which is when the detectives step up.
On oct. 11, 2013, Anthony's family was notified that his recovery had taken a turn for the worse.  The family then notified the Domestic Violence detectives at the SAPD and they were advised the case had just been opened and that Paulina needed to be questioned but since Anthony was likely to pass away, the detective said that she would need to transfer the case to Homicide.
On Oct. 14, the family spoke to a Homicide detective and they were informed that Paulina still had not been questioned but she had obtained a lawyer and would be coming in to give a statement.
On Oct. 16 they were informed that due to very limited evidence the District Attorney will not be pursuing murder charges as per Detective Leo Ramirez. The family was informed on Oct. 17 that the case would be transferred over to the traffic division.
The family called the traffic division on Monday, Nov. 4, 2013, to seek answers on why there had been no arrest. The family feels that someone needs to be charges with foul play, manslaughter, or driving without a license. They contend that something is wrong with the story and with the Santa Ana P.D.
Anthony's sister wonders if the story was turned around and Anthony was driving, would he have been detained immediatly?  And why did it take nine days to get a statement from the prime suspect? And why was Paulina drving when she did not have a drivers license?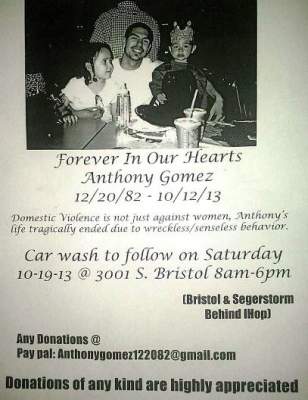 His sister noted that past records show that Paulina and Anthony have been arguing for many years, and that back in 2012 he went to the Family Court and got a temporary restraining order against Paulina.  She says that they have pictures of scratches she left him. And she says that Anthony tried a number of times to move on with his life and to be happy but every time he tried to move on Paulina would hold his kids back. This was heartbreaking for him as he purportedly "lived for those kids."
Was this a case of domestic violence against a man or did Paulina flee out of concern for her own well-being?  Was it an accident or was hit premeditated?  There are a lot of questions but no answers.  If you saw something that day, Anthony's family encourages you to remember that anonymous tips may be submitted to Orange County Crime Stoppers at 855-TIP-OCC (855-847-6227) or at www.occrimestoppers.org.