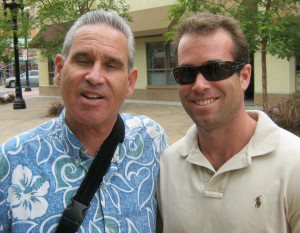 Irv and Ryan Chase
A few out of town bloggers appear to be having a fit because they weren't invited to Thursday's Santa Ana Latino Jewish Forum.  It is sad that some folks have to attack everything – even something positive, like this community event.
I was able to get a hold of a partial list of those who were invited to this event, which is also being broadcast live online for those who could not attend.  Irv and Ryan Chase were invited.  I hope they attend.  Others who were invited include a Who's Who of Santa Ana's community leaders, including:
Sean Mill – Santa Ana Planning Commissioner
Art Pedroza – New Santa Ana
George Collins – Santa Ana Insight blog
Vicky Baxter – Downtown Inc.
Irv Chase – Landlord
Ryan Chase – Landlord
Albert Castillo – Chicanos Unidos
Rob Richardson – SAUSD Trustee
Roman Reyna – SAUSD Trustee
Mark McLoughlin – RSCCD Trustee
Amin David – Los Amigos
Sen. Lou Correa
Lucy Dunn – OC Business Council
Armando de la Libertad – Delhi Center
Ruben Smith – Lawyer
Connie Hamilton – Connect to Council
Zeke Hernadez – LULAC
Ruben Martinez – Bookstore owner
Raul Luna – Loretta Sanchez office
Teresa Saldivar – Teresa's Jewlers
Bobby McDonald – OC Black Chamber of Commerce
Erwin Chemirinsky – UCI Law School Dean
The Sikh Center of Orange County
Erlinda Martinez – President, Santa Ana College
Rabbi Arnold Rachlis – University Synagogue Irvine
Fred Armendariz – Businessman
The Merage Foundation – a Jewish philanthropic organization
America Bracho – Latino Health Access
Dr. Muzammil Siddiqi – Islamic Center of OC
For the record, my invitation was sent to my old email address.  I now have it but won't be able to attend due to a calendar conflict.  My friend Sean Mill however will be there and I will be asking him to give me an update about the event, after the fact.
As you can see, those invited reflect the diversity of Santa Ana and Orange County.  Of course the out of town Irvine and Long Beach bloggers were NOT invited.  Why would Santa Ana Mayor Pro Tem Claudia Alvarez want them at this event?