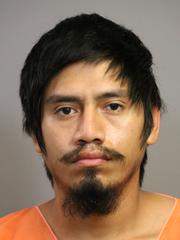 COSTA MESA, Calif. (Oct. 22, 2020) — The Costa Mesa Police Department (CMPD) arrested a driver involved in a single-vehicle roll over that killed one passenger and injured the other passenger
On Thursday morning, Oct. 22, 2020, at approximately 2:25 a.m., the Costa Mesa Police Department (CMPD) received a call from the Anaheim Police Department with information that about 80-100 vehicles were coming from their city and possibly heading to Costa Mesa.
At the same time, the CMPD began receiving calls from several reporting parties that a pickup truck had rolled over within in the intersection of Hyland Avenue and Sunflower Avenue.
Callers were reporting that the intersection had been taken over by approximately 50-100 vehicles and spectators were present.
After the collision, several bystanders rolled the truck to the side where a passenger was found unconscious.
Officers and Costa Mesa Fire & Rescue arrived and initiated CPR; however, the victim succumbed to his injuries.
The deceased was identified as 23-year-old Sergio Marroquin, Jr. The Orange County Sheriff-Coroner's Office responded to the scene and took possession of the victim's body.
The CMPD Major Accident Investigation Team (MAIT) arrived shortly thereafter to begin their investigation. During the investigation, it was determined that  Marroquin, Jr. was a passenger in the vehicle that rolled over while driven in a donut pattern at the intersection.
The driver and cousin of the deceased was identified as Mynor Augusto Esquivelvalle, 22, Los Angeles, and was arrested and booked on murder.
Another passenger who sustained non-life threatening injuries was transported to a nearby hospital to be treated.
There were three spectators, including a female and two males, that were arrested at the scene  for aiding and abetting in connection to this incident. 
Street racing and street takeovers is an issue that law enforcement throughout the county is addressing. To report street racing and street takeovers in the city, call the CMPD non-emergency number at (714)754-5252. In case of an emergency, call 911.
Anyone who was a witness at the scene of who has any information regarding this incident is asked to contact Traffic Safety Investigations at (714) 754-5264.