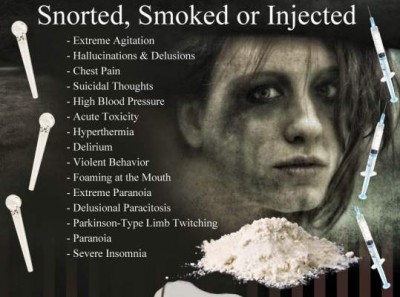 A woman stripped off her clothes inside a Santa Ana market yesterday and died shortly after she was subdued by store employees, according to the Fountain Valley Patch.
Shortly before 9 a.m., a woman in her 40s began yelling and screaming in the liquor section of the El Toro Market in the 1300 block of West First Street, Santa Ana police Cpl. Anthony Bertagna said, according to the O.C. Register.
Two store employees, a security guard and the store's manager subdued her and called authorities, but the woman died while paramedics and police were en route to the scene.
As if that incident wasn't bad enough another woman also stripped during an incident yesterday!
At about 9 a.m., a woman crashed her vehicle into a brick wall at 100 S. Fairview St., then started waving a 6-foot-long tree support at passing motorists before stripping off her clothes, Bertagna said, according to the Fountain Valley Patch.
Police suspect the woman was under the influence of bath salts, Bertagna said. She was taken to a hospital and was expected to be booked on suspicion of driving under the influence and drugs, he said.
Bath salts?  Have they arrived in Santa Ana?  That's the last thing we need in this city!
"Bath salts" is the name given to a family of drugs that have one or more manmade chemicals related to cathinone. Cathinone is an amphetamine-like stimulant found naturally in the khat plant. Chemically, they are similar to other amphetamines such as methamphetamine and to MDMA (Ecstasy or Molly). Common manmade cathinones found in bath salts include 3,4-methylenedioxypyrovalerone (MDPV), mephedrone ("Drone," "Meph," or "Meow Meow"), and methylone, but there are many others, according to the National Institute on Drug Abuse.