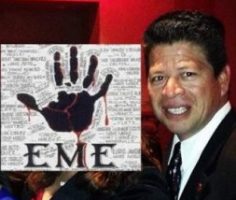 City Council members adopted a balanced, $228.9 million 2016-17 fiscal year budget on Tuesday with only one tweak – dedicating projected surplus funds to hiring more police officers, according to the O.C. Register.
The City Council voted to spend an extra $1.5 million and $2 million from the current fiscal year on more cops. Except for one Council Member – Roman Reyna.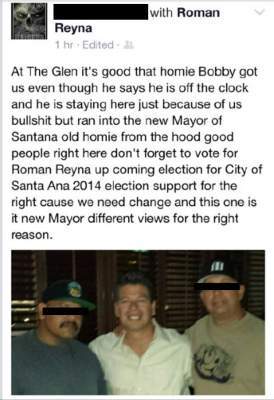 You might recall that when Reyna ran for Mayor a couple years ago we came across a picture of him posing with active members of the Mexican Mafia. The SAPD police association asked Reyna to explain himself and he never did.  They ended up sending mailers against his campaign and he ended up losing badly to the incumbent, Mayor Miguel Pulido.
Reyna's brother died in prison. Reyna himself was once shot and wounded, when he was younger, while at a park.
Reyna told the Register that "recent violence is fallout from cuts to nonprofits and community programs." He also said that "I definitely think there should be a balance of not only enforcement, but of opportunities for young people, keeping them engaged in activities."
Reyna's comments come at a time when the City of Santa Ana embroiled in a vicious gang war. The question we have to ponder is if he is too close to the gang members? Where do his sympathies lie?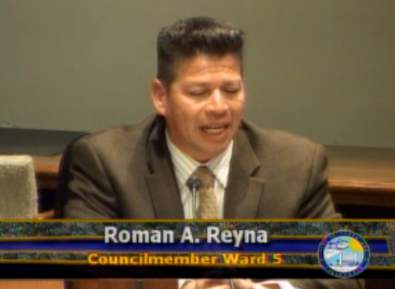 Reyna is up for re-election this November. I am told that both the local police association and the firefighter's union are going to oppose his re-election.
If you ask most residents of our city they will tell you that we need more police officers. Response time by the SAPD is awful. We just don't have enough cops. As such Reyna's position on the issue is ridiculous. I can't imagine why anyone would vote for him again.
There are plenty of non-profits doing well in our city. The local school district is also doing a lot for our kids – even offering to feed all of them, for free, this summer. What we need more of in this city is police officers – and we need to bring back our gang strike force – that Reyna and his colleagues stupidly voted to disband.
We also should be looking at replacing SAPD Police Chief Carlos Rojas with someone else with more experience, who will lead the fight against our gangs and take back our streets for the families of Santa Ana.