Operation Warm Wishes Presents: Extreme Safety Days and Community Potluck- Helmet and Book Giveaway, on Saturday, March 19th 2016, from Noon- 4:00 p.m.
Join us for an Extreme day of serving and making a difference in the community. Helping our homeless, students and families in need. We are ready to make a difference in a super extreme way.
Join O.W.W Make It Happen Club and The Community as we host an Extreme Day of Safety and Giving for our Students, Families and Homeless.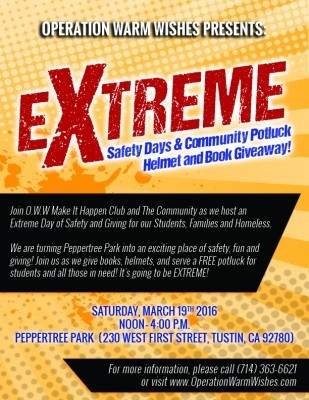 We are turning Peppertree Park into an exciting place of safety, fun and giving! Join us as we give books, helmets, and serve a FREE potluck for the homeless, students familes and all those in need! It's going to EXTREME!
All are welcome to join us! A Fun and safe day for the entire family and community!
Where: Peppertree Park (230 West First Street, Tustin, CA 92780). For more information please call (714) 363-6621 or visit www.OperationWarmWishes.com.