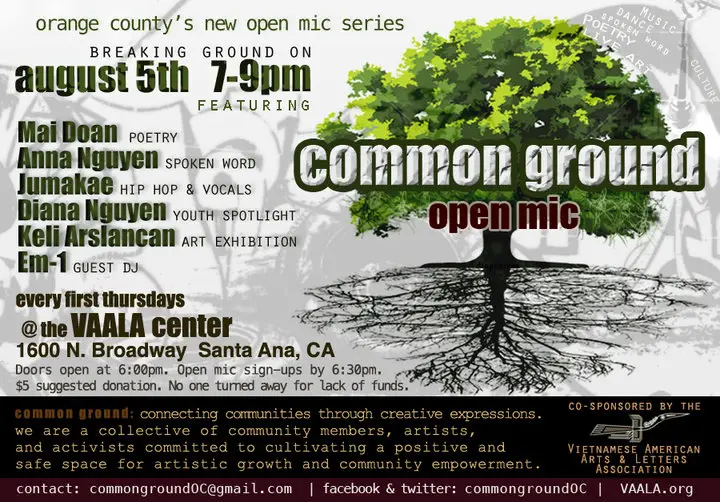 Common Ground Open Mic is coming to the VAALA Cultural Center in Santa Ana on August 5, from 6:00 pm – 9:00 pm, at 1600 N. Broadway, in Santa Ana.
Doors open at 6:00pm.  Open Mic sign ups by 6:30pm.  Show starts at 7:00pm.  $5 donations suggestion. No one turned away for lack of funds.
FEATURING:
Mai Doan | poetry
Anna Minh-Giang Nguyen | spoken word
Jumakae | hip hop & vocals
Diana Nguyen | youth spotlight
Keli Arslancan | art exhibition
Em-1 | special guest dj
Gingee | special guest dj
contact: commongroundOC@gmail.com for more info.
*co-sponsored by the Vietnamese American Arts & Letter Association
FEATURED ARTIST BIOS
All featured artists embody this month's open mic theme: empowered women (re)defining the arts.
Keli Arslancan is a Muslim Hapa, born and raised in La Palma, CA. Her Turkish father came to the United States on a scholarhsip to comlete his doctorate. Her mother was a Japanese orphan adopted by a Polish American woman after WWII. Keli's artwork has become a reflection of her biracial background. As an artist, Keli has beeen fascinated with figurative language because it is an instrument used to compare and contrast two unlike things. In her pieces, she focuses on the relations of language with image and allusion with illusion.
Mai Doan is never able to explain herself in one sentence. She looks to poetry as a tool to disrupt and expand understandings of what it means to be queer, Vietnamese, mixed, woman. She needs and believes in cultural transformation, collective liberation and love. Her words have been published in the online anthology Flick of My Tongue, a project of Kearny Street Workshop and Intersection of the Arts, as well as the Spring 2009 publication of Cipactli, a Raza Studies Art and Literature Journal at SF State University. She performed at last year's APAture's Literary Night, and you can catch her this Fall performing at Litquake in San Francisco.
Diana Nguyen. 16 years ago, Diana Nguyen was born. Since the day she was born, she grew up in a household of Vietnamese affection. Her parents' hard work and their forehead sniffs signified their love; however, growing up as Vietnamese American was not always easy. The reassurance of her parents' love was not always there. She faced the struggles of self acceptance in American society. Where was her place? And who was she? Lost in the media's protrayals, she knew she had to find her answers elsewhere. Books, lessons, and people came forth her way and allowed her develop her own sense of identity. She answered who she was and realized her place in American society. Today, she now enjoys continuing the discovery of life, from local ice cream shops to her personal identity.
Anna Nguyen.  Minh-Giang (Anna) Nguyen is a 5th grade educator in East San Jose and is a member of Viet Unity, a Vietnamese grassroots collective based in the greater Bay Area. She earned her B.A. from UC Berkeley in Mass Communications and Sociology while dedicating her undergraduate career to the education and empowerment of underserved students through organizations such as REACH! (API Recruitment and Retention Center), bridges Multicultural Resource Center, and SASC (Southeast Asian Student Coalition). During her free time, she enjoys writing, running, sleeping, and being in the company of awesome individuals. nguyenwins@gmail.com
Jumakae is a "Southeast Asian"-American artist weaving cultural differences into a common thread through lyrical storytelling and improvisation, accompanied by various sounds from acoustic melodies to fresh beats. Her words speak for the silenced people of the world, from the sex workers in Thailand to the 9-5 worker with broken dreams. She hopes to awaken the lost child that sleeps within every individual so that they can realize the beauty that exists through shared goals and creative expression. She has had the opportunity to perform alongside artists such at Akil from Jurassic 5, KRS-One, Georgia Anne Muldrow, Barikuda from One Love Community, Native Guns, and other prominent hip hop and spoken word artists from Southeast Asia to Los Angeles, CA. She is part of the artist collective based in Long Beach called ONE IMAGINATION, which helps to foster creativity and challenge the status quo through its various writing and performance workshops. She also co-hosts an open mic the last Thursdays of every month called Break the Silence held at PIZZA PI near the East Village Arts District. Please visit www.oneimagination.blogspot.com for more information, or visit her Music Page: www.myspace.com/siamesemeerkattion.
common ground: connecting communities through creative expressions. we are a collective of community members, artists, and activists committed to cultivating positive and safe space for artistic growth and community empowerment.