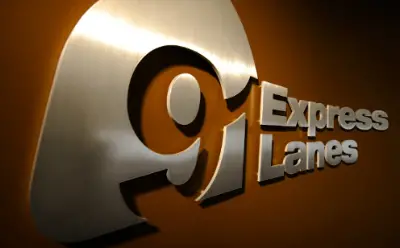 November 21, 2011
Cofiroute USA Launches Consulting Division To Assist Public Agencies, Contractors, Others In Developing New Toll Roads, Converting HOV Lanes
State, Federal budget constraints resulting in more plans involving public-private partnerships to spur construction, relieve congestion
(IRVINE, Calif.) – Cofiroute USA, which first revolutionized the automation of toll roads in the United States with the 91 Express Lanes in Orange County, California, has launched a new consulting division to work with public agencies, contractors and others in developing plans for new toll roads or converting existing high-occupancy vehicle (HOV) lanes to high-occupancy toll (HOT) lanes.
Gary Hausdorfer, President and CEO of Cofiroute USA, said the division was launched to meet growing demand for expertise in the planning stages for toll roads, HOT Lanes, and Public Private Partnerships involving tolling to ensure the right elements are included and analyzed in all stages of development. Cofiroute is currently consulting on projects in California, North Carolina, Georgia and Florida. The work ranges from consulting on operations for five new toll roads in one state to developing managed lanes in another.
"Developing new toll roads or converting HOV to tolled lanes obviously requires a more detailed approach than ones followed in building non-tolled roads," said Hausdorfer. "Tolling a road or lanes is a business not just an engineering exercise. So the predevelopment work actually starts with drafting the initial request for proposal (RFP) by a public agency so respondents understand the complete scope of work, then planning for managing all aspects of tolling based on real world operating experiences, not as a theoretical exercise or in a piecemeal fashion. Mistakes and miscalculations made early in the process can result in millions of dollars in cost overruns during construction, in daily operations, customer service systems and in future maintenance needs."
Named as the new director of the consulting services division, is Ryan Young, who for the past five years managed the information technology functions of the 91 Express Lanes, including data center and data processing activities, back office software, PCI DSS security compliance, infrastructure support, virtualization, vendor relations, business continuity and disaster recovery. Young listed a few critical elements agencies and public private partnerships should consider in early planning for new roads:
n Design to minimize capital start up costs and efficiency of ongoing maintenance and operational costs
n Avoid approaching plans for road and back office systems piecemeal
n Choose the best tolling solution – All Electronic Tolling, HOT lanes, on-road cash collection option and/or video tolling
n Plan for effective management of emergency services
n Consider sharing toll revenues to provide corridor improvements
n Develop violation rules that are firm and fair
n Consider interoperability with other toll road systems
n Develop an effective customer/stakeholder communication plan
"Cofiroute as the developer and manager of the first all ETC facility in the world will bring real world expertise to toll projects at their earliest stages of development, saving time and money before the first shovel of dirt is turned and through many years into the future," Young said.
About Cofiroute USA:
Headquartered in Irvine, Calif., Cofiroute USA provides a wide range of services to its public and private sector clients including total management of all toll operations: call center staffing, account management, website management, inventory management, support for enforcement and marketing and integrated revenue and account management systems (RAMS) for customer relationship management, system-wide monitoring, analysis and maintenance. The company helped create the world's first fully-automated toll facility – Southern California's 91 Express Lanes. The 91Express Lanes operation in Orange County, California, which is now owned by Orange County Transportation Authority (OCTA) has become an international model for highly efficient, safe, driver-friendly operations. Cofiroute USA was also a key part of the team that converted the first high-occupancy vehicle lanes (HOV) to high occupancy toll (HOT) lanes in Minneapolis, Minnesota. In addition to its toll road operations contracts, it is currently providing consulting services to public agencies planning new toll roads and converting high occupancy vehicle (HOV) lanes to managed toll lanes in several regions, including North Carolina, Georgia, Florida, Puerto Rico and California. Cofiroute USA is backed by the global resources and experience of its parent company, Vinci, based in Paris, France, which had annual revenues of $45.7 billion (€ 33.4 billion) in 2010, with 190,000 employees in more than 100 countries.
###
For additional information, see www.cofirouteusa.com
For press inquiries: Gable PR – 619-284-1714