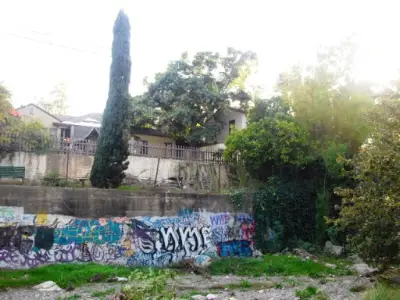 City of Santa Ana, Orange County's Downtown
Community Alert: City of Santa Ana Scheduled to Host a Community Graffiti Clean-up/Education Day
SANTA ANA, CA (February 6, 2014) – In promoting the City's graffiti abatement efforts, Santa Ana Public Works in collaboration with residents, community volunteers/ organizations, and city contracted graffiti removal crews will host a Community Graffiti Clean-up and Education Day. Graffiti Protective Coatings will provide materials and supplies for the graffiti abatement. Coffee and donuts will also be given along with T-shirts for the first 100 volunteers who pre-register. The graffiti clean-up day will begin at Carl Thornton Park's, Kiwanis Barrier Free Park Amphitheatre and will proceed throughout the park and various surrounding neighborhoods.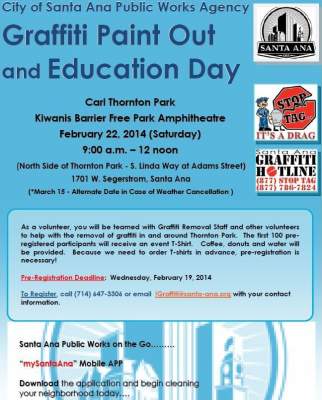 What: COMMUNITY GRAFFITI CLEAN-UP and EDUCATION DAY
When: Saturday, February 22, 2014, from 9:00 a.m. to 12 noon
Where: Carl Thornton Park – Kiwanis Barrier Free Park Amphitheatre
(North Side of Thornton Park – S. Linda Way at Adams Street)  1701 W. Segerstrom, Santa Ana
Note: Pre-Registration necessary – (714) 647-3306 or email !Graffiti@santa-ana.org
On or before Wednesday, February 19, 2014.
(*March 15 – Alternate Date in Case of Weather Cancellation)
Contact: Danell Mercado – 714-647-3308.
####