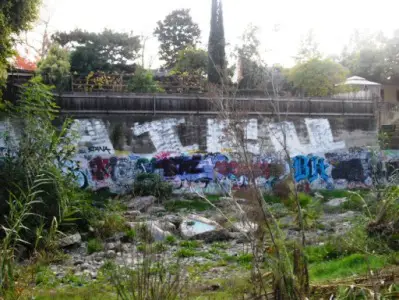 Community: City of Santa Ana Scheduled to Host a Community Graffiti Clean-up Day
SANTA ANA, CA (January 11, 2012) – In promoting the City's graffiti abatement efforts, Santa Ana Public Works in collaboration with residents, community volunteers/ organizations, and city contracted graffiti removal crews will host a Community Graffiti Clean-up Day, this Saturday, Jan. 28.
Frazee Paint / The Comex Group will provide "Take-Away" materials and supplies for the graffiti abatement efforts. The City contractor, Graffiti Protective Coatings, will provide five additional trucks at no additional cost to accomplish removal of graffiti from utility poles citywide. 7-Eleven is donating coffee and donuts along with water to keep the volunteers hydrated. The graffiti clean-up day will begin at the Memorial Park stage area and will proceed throughout the various surrounding neighborhoods.
What: COMMUNITY GRAFFITI CLEAN-UP DAY
When: Saturday, January 28, 2012, from 9:00 a.m. to 12 noon
Where: Memorial Park Stage Area
2102 S. Flower Street
Santa Ana, CA 92707
Contact: Danell Mercado – 714-647-3306
Follow us on Facebook: https://www.facebook.com/#!/pages/City-of-Santa-Ana/200089073336831
Follow us on Twitter: https://twitter.com/#!/CityofSantaAna
###
Contact Information:
Danell Mercado
City of Santa Ana
714-647-3306