With the departure of Cecilia Iglesias from the Santa Ana Unified School District Board the existing four members of the School Board decided they would attempt to appoint a replacement for the vacant spot (Iglesias was elected to the Santa Ana City Council.)
The Board narrowed the field of applicants to two candidates: Carolyn Torres, a Latina teacher of ethnic studies, and Bruce Bauer, an attorney and active community member. Each candidate had the support of two of the Board members and so the Board is now deadlocked 2-2 for each candidate.
Carolyn was supported by Board members, Rigoberto Rodriguez and Alfonso Alvarez. Bruce was supported by Valerie Amezcua and John Palacio.
Bauer has been an activist in City politics for many years while Torres, a year ago, moved back to Santa Ana.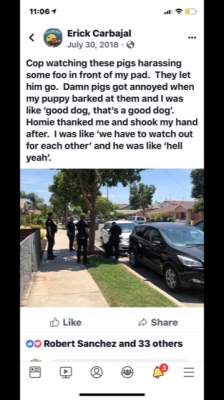 I don't support either candidate however it should be noted that Torres' supporters at the meeting were rude and disrespectful to the process and her boyfriend of five years, Erick Carbajal, has some serious anger issues.
Some of Carbajal's posts on Facebook are really scary: "All I ever wanted to do was fck shit up;" or, I want wait for the time I can retire and "paint graffiti." He also targeted weddings during hotel boycotts and bragged about brides crying, priests pleading with him to stop and best men with fists flying – and, those were some of his tame postings! Some of her supporters were members of the same crowd that back the "Fck the Police" movement.
One of Torres' supporters even said that a white person shouldn't be on the Board (the appointed person must look like the community)!
I guess diversity doesn't count even there are no openly gay elected officials on the City County or School Board – and Bauer is openly gay.
Torres also is given to conspiracy theories like her suggestion on Facebook that MLK was killed by the U.S. Government (a theory that even the liberal website Snopes has debunked, and the Dept of Justice, under Eric Holder, concluded was not "credible.") She also has a picture of Fidel Castro on her Facebook page glorifying him as a hero.
While Bauer is also too liberal for my tastes, Santa Ana is definitely not ready for Torres' brand of politics and the City's residents should be horrified that two of its Board members are supporting her as a candidate for our School Board.
Clearly we need to conduct a Special Election to replace Iglesias on the SAUSD School Board. We can do better than Torres and Bauer!