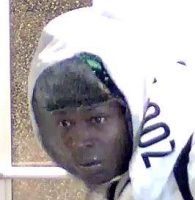 Santa Ana Police Department
Advisory: Detectives Requesting Media & Public's Assistance in Identifying Suspects in Commercial Burglary Series
The Sprint store located at 3611 South Bristol Street has been the victim of five separate commercial burglaries. The first burglary in this series occurred on November 24th, 2016, and the fifth this morning February 14th, 2017.
Each of these crimes was captured on the business' video surveillance system and occurred between the hours of 4:00 and 6:00 a.m. In each of the cases it appears one or both of the suspects participated in the burglary.
Suspect(s):
Suspect 1– Male Black, 18-25 years old, 5-10 to 6-00 , 160 to 175 lbs., seen carrying a skateboard.
Suspect 2 – Male White or Hispanic, 18-25 years old, medium build, wearing red beanie, black hooded sweatshirt, black pants, black shoes. Seen riding a dark colored beach cruiser bicycle.
Anyone with information regarding this crime series is asked to contact SAPD Burglary Detective A. Gonzalez at 714-245-8732 or Orange County Crime Stoppers at 1-855-TIP-OCCS.