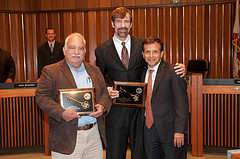 Community: SANTA ANA HONORS BROADCOM FOUNDER HENRY T. NICHOLAS, III, PH.D. AND JUDGE JACK K. MANDEL WITH KEYS TO THE CITY
— Founders of Non-Profit Nicholas Academic Centers Recognized for Continued, Generous Contributions to Community —
SANTA ANA, Calif. (July 11, 2012) — In a special ceremony, The City of Santa Ana recently presented
Broadcom (NASDAQ:BRCM) Founder Henry T. Nicholas, III, Ph.D. and retired Judge Jack K. Mandel with Keys to the City to honor their outstanding dedication to the community through the Nicholas Academic Centers (NACs). The Keys are given at the discretion of the mayor and symbolize one of the highest honors. The last "key" to the city was presented to Renée Segerstrom more than a decade ago.
"The Nicholas Academic Centers are transforming education as we know it," said Mayor Miguel Pulido. "I have personally witnessed Dr. Nicholas applying his fierce tenacity and competitiveness, which were key drivers in his ability to redefine the technology industry globally with Broadcom, to these Centers and what they provide for our students. Dr. Nicholas and Judge Mandel have already profoundly improved the lives of hundreds of families here in Santa Ana and I am confident that will affect thousands if not millions nationally in the future."
NACs was established in 2008 by Henry T. Nicholas, III, Ph.D., founder of Broadcom, in partnership with Judge Jack K. Mandel, to provide after-school tutoring and mentoring for high school students in the Santa Ana Unified School District. In less than five years, NACs has changed the lives of hundreds of students through scholarship opportunities that would never have been realized. NACs has been the catalyst for 232 local students to earn scholarships to many of the nation's most prestigious universities, including the University of Notre Dame, Georgetown University, Smith College, UC Berkeley, UCLA, UC Irvine and Chapman University. Many of these students have been offered full-ride scholarships.
"Our goal is to remove the economic, educational, and cultural roadblocks that prevent talented kids from achieving the American dream," said Dr. Nicholas. " Our Nation needs more future leaders whose background is economic hardship rather than privilege. NAC is providing America with those future leaders."
NAC's results have been impressive. One hundred percent of the 83 graduating seniors enrolled in NAC will attend college in the fall—in comparison to 61 percent for Hispanic graduates nationwide. The participating students are supported by grants from the Henry T. Nicholas, III Foundation, which has committed to investing $10 million to the program. To date, graduating students have earned scholarships totaling $2.7 million as well as more than $600,000 in direct-gap financing provided by NACs.
In addition to well-rounded, hands-on academic guidance, NACs students enjoy cultural enrichment opportunities often denied to those without economic means. NACs students have enjoyed off-site experiences at the Orange County Performing Arts Center, courtside seats at Lakers and Angels games, and special presentations from Nobel-prize and Emmy-award-winning guest speakers.
"These Centers have a profound effect not only on the students, but their families and the community as a whole," added Mayor Pulido. "NACs has single-handedly transformed the success rate of the Santa Ana school system and we are eternally grateful. The potential domino effect that NACs can have on the future of the American school system is a tangible reality. It's an honor to have piloted this model in our city."
Through its public-private partnership model, the Nicholas Academic Centers have built a bridge between the public and private sector, and have been a focal point for coordinating the efforts of every critical element of our educational system, from the district, to the teachers, principals, students and parents. In fact, the NACs public-private partnership model is so successful that it is being sought after for adoption in cities across the United States.
"Our nation's educational system is craving innovative thinking. The NACs model elevates a deserving student's ability to obtain direct access to colleges throughout the United States. Our results speak for themselves," said Dr. Nicholas.
Of the NACs graduates who attend four-year colleges, 96 percent are still enrolled and excelling academically, beating the national average of 77 percent.
About The Nicholas Academic Centers (NACs)
The Nicholas Academic Center was established in 2008 by Henry T. Nicholas, III, Ph.D. in partnership with retired Judge Jack K. Mandel. A second Center opened in 2009. The NACs provide academic assistance, social services, cultural enrichment programs, college connection opportunities, and scholarship opportunities. Since inception, more than 230 students have gone on to college, with most attending top schools such as University of Notre Dame, Georgetown University, Smith College, UC Berkeley, UCLA, UC Irvine and Chapman University. NACs students have earned a total of more than $2.7 million in scholarships and financial aid. The NACs staff works closely with school principals, teachers and guidance counselors, as well as with students' families and community leaders. The Centers are funded by the Henry T. Nicholas, III Foundation and modeled on the tutoring and mentoring program Judge Mandel started before retiring from the bench. For more information, visit http://www.naccenters.org/ or call 714-834-0521.
# # #