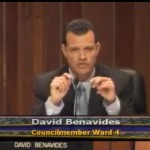 Councilman Benavides chats with hate group member Lupe Moreno
As I reported back on August 3rd the Orange Juice made an official records request from the City of Santa Ana to get all the names of those issued certificates of recognition for their participation on the American Independence Day planning committee.  Earlier this week I received an email from Mark Lawrence, Executive Assistant to the City Manager, with that list of names.
Not surprisingly those who privately recieved the certificates from Councilman David Benavides were in stark contrast to those he publicly honored with the exception of Anne Menaldo.  Publicly Benavides tried to paint a picture of a group made up of kindly, concerned and considerate members of the community who had no political agenda.  At that council meeting Benavides brought forward folks like Melanie Cole-Gomez, Stan and Marva Zubas and the aforementioned Menaldo, who is a documented Moreno supporter.
However those privately honored by Benavides demonstrate a much uglier side to this group.   Those getting the award in this fashion include known hate group member Lupe Moreno, right-wing extremist Rosie Avila, Moreno supporter Thomas Gordon and Minuteman member/immigrant basher Anita Hynds.  It was Hynds husband Gary that referred to Santa Ana residents as "fu*king wetbacks".
Obviously Benavides did not want to publicly embrace these extremists and haters, so why honor them at all?  Clearly this is a picture into Benavides and how he operates.  Publicly he puts on a face of a man who stands side by side with our immigrant and LGBT community but privately he rubs elbows with the very folks that hate them.  Talk about two-faced hypocrisy.
Benavides and his supporters have been making the argument that he was simply honoring Moreno and the other extremists for their involvement in the Independence Day event and this is in no way tied to their political agenda.  The fact of the matter is that you cannot seperate Moreno's membership in a hate group or the others extremism from anything.  This is who they are.  This is what they are all about.
Everytime you look the other way and recognize or honor folks like Moreno, Avila, Gordon and Hynds you are helping justify their extremist and hateful agenda.  Would Councilman Benavides honor David Duke if he held an event in Santa Ana?  What if the Mexican Mafia wanted to donate money to buy books for the library would he be in favor of accepting it?
I think we all know the answer to both questions.  So ask yourself why does he continue to act as an enabler for Lupe Moreno and the rest of the "usual suspects" in town?
Unfortunately Benavides is running unopposed for the Ward 4 City Council seat this November so there is not much we can do to prevent another four years of this reprehensible behavior.  We can however insure that Ward 4 will be his political graveyard and that his dreams for higher office are dead and buried.