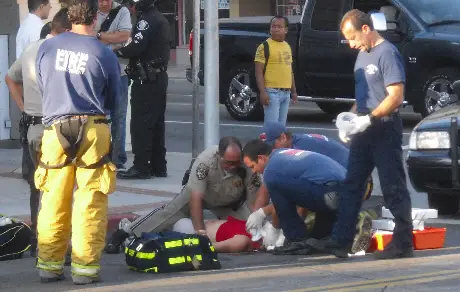 The City of Santa Ana is one of at least 50 cities in the state that have adopted so-called crash-tax laws allowing local governments to seek reimbursement from insurance companies for the costs of sending public emergency crews to accident scenes. The fees can amount to hundreds or even thousands of dollars. If insurers don't pay, cities can hire collection agents to seek payment from the motorists involved, according to the L.A. Times.
However, Santa Ana residents can also purchase paramedic services, via the City's EMS Membership Program, at a low cost of $48 per year.  The cost can also be added to your water bill, in $8 increments.
The charge for a single EMS response ranges from $82.30 to over $700, depending on the level of service provided. As an alternative to paying these direct fees, all Santa Ana residents have the opportunity to join the EMS Membership Program. Membership provides unlimited use of the emergency medical system for you and all permanent members of your household. As a member, you will not be assessed any direct fees for emergency medical services.
Services Provided:
24-hour basic or Paramedic-level service depending on your medical need.
Emergency ambulance transportation provided by the Santa Ana Fire Department to local hospitals.
If needed, emergency life-saving instructions over the phone while the Santa Ana Fire Department is responding.
For more information, call the City's Finance Department at (714)647-5430 or the Water Department at (714)647-5454.  Click here to read more about this program.