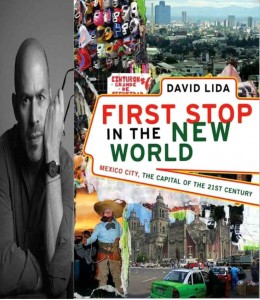 Santa Ana's El Centro Cultural De Mexico presents David Lida, author of the book "First Stop in the New World" Mexico city, The capital of the 21st Century," on Sep. 25, at 7 p.m.
"First Stop in the New World," is a street-level panorama of Mexico City, the cultural capital of the Spanish-speaking world.
The book discusses the substantive issues facing Mexico City's residents today by letting these residents tell their own stories of everyday struggles and triumphs. He takes us into resilient working-class neighborhoods, sprawling open-air markets, welcoming cantinas and boisterous lucha libre theaters, capturing the city's addictive raw energy.
Join Lida at Centro Cultural De Mexico, as he discusses how 20 million people survive in the world's most misunderstood megalopolis.
You can buy "Mexico City, the Capital of the 21st Century," on Amazon.com for $10.12 right now by clicking here.  It is usually a $25 book but it is on sale right now.
Date & Time: 09/25/09 at 7:00pm Address: 310 W. 5th street, Santa Ana Ca.
Refer to the attached FLYER and FLYER2 for additional information.