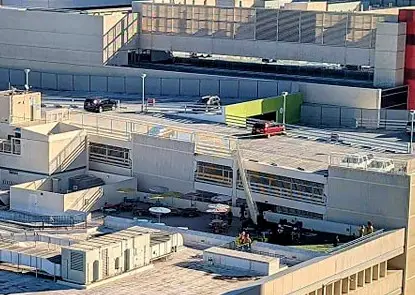 A driver believed to be an elderly woman somehow drove off a four-story parking garage at CHOC, in Orange, as we reported on our Facebook page earlier this morning.
The incident happened just after 8 a.m. at CHOC's main campus, located at 1201 W. La Veta Ave., in Orange.
The driver's SUV slammed through the railing at the edge of the parking structure and proceeded to land upside down on the building below.
The victim was taken to a local trauma center, according to the OCFA.
No other injuries were reported.
OCFA authorities are still trying to determine how to safely remove the vehicle. The SUV landed on a roof and may have to be lifted back to the top of the parking structure.
The cause of the crash remains under investigation. In the past similar incidents have happened when drivers put their cars in forward, while intending to go in reverse. When the cars don't move, as their tires are in contact with the tire stops, they slam down the gas pedals and eventually the cars hop over the tire stops and then move forward at a high rate of speed.
The State of California requires drivers age 70 and older to renew their licenses in person and to take both a vision test and written test when doing so. But shouldn't they also have to take a road test and shouldn't the DMV look at their medical records to see if they have underlying conditions that could affect their driver, such as dementia?