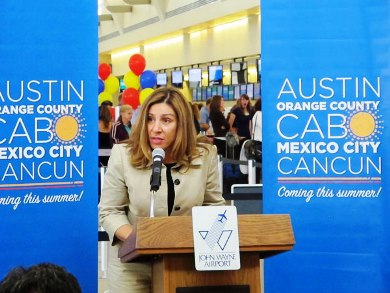 FOR IMMEDIATE RELEASE: June 6, 2012
Contact: Jenny Wedge, Office: (949) 252-5182, jwedge@ocair.com
AIRTRAN AIRWAYS BEGINS NONSTOP SERVICE FROM ORANGE COUNTY, CA TO CABO SAN LUCAS AND MEXICO CITY
SANTA ANA, Calif. – On Sunday, June 3, 2012, AirTran Airways arrived in Orange County to begin John Wayne Airport's (JWA) first flights to Mexico! AirTran now offers daily nonstop service between Orange County and Cabo San Lucas/San Jose del Cabo and between Orange County and Mexico City.
To celebrate the new service, John Wayne Airport and AirTran – a wholly-owned subsidiary of Southwest Airlines – held a press conference Sunday morning in Terminal C where AirTran is stationed.
View photos of AirTran Airways beginning service at John Wayne Airport, and video of the first departure
Airport Director, Alan L. Murphy welcomed AirTran and Southwest employees and passengers to JWA and shared remarks on the importance of the new service to Mexico. Murphy was joined by Third District Supervisor Bill Campbell, from the Orange County Board of Supervisors, Greg Wells, Southwest Airlines Senior Vice President of Operations and Alejandra Garcia Williams, Consul of Mexico in Santa Ana.
Quote from Alejandra Garcia Williams, Consul of Mexico in Santa Ana, CA
"Congratulations to Orange County for having the vision to build international facilities at John Wayne Airport," stated Alejandra Garcia Williams, Consul of Mexico in Santa Ana, CA. "Of the three million residents in Orange County, nearly one million are Mexican and Latin American. These flights are going to help promote additional tourism, as well as trade, between our countries – they will be very popular."
Quote from Supervisor Bill Campbell
"Visitors from Mexico represent one of the largest international tourist markets for California and are the largest international market for Orange County," said Supervisor Bill Campbell. "We know Orange County residents will make the most of the opportunity to fly nonstop to the beautiful resorts and beaches of Cabo San Lucas. Mexico City is one of the most important cultural and financial centers in North America and will offer a strong pull for Orange County-based business and leisure travelers."
Quote from Alan L. Murphy, Director, John Wayne Airport
"We are thrilled that AirTran Airways is bringing Orange County its first-ever nonstop service to Mexico," said Alan L. Murphy. "Our recently-opened Terminal C, along with the efficient new international arrivals facilities, will make JWA the most convenient choice for passengers traveling to and from Mexico."
Quote from Greg Wells, Sr. Vice President, Operations, for Southwest Airlines
"The new service is a great benefit to Customers across both the Southwest and AirTran networks as we are seeing the reward of our integration efforts-more flights to more destinations," said Greg Wells, Senior Vice President of Operations for Southwest Airlines. "After 18 years operating at John Wayne Airport, we're thrilled to be adding the first international flights to Mexico – bringing our total daily nonstop service to 53 flights departing from Orange County Monday through Friday."
Those attending the press conference celebrated by wearing fun, colorful branded AirTran sunglasses. Passengers on the first flight to each destination were treated to breakfast and lunch with a Mexican flare, along with virgin margaritas hosted by HMSHost's Javi's restaurant located near Gate 14 at JWA. A mariachi band played while AirTran Airways staff conducted a trivia contest and gave away prizes. Each passenger on the first flights also received a goody bag with AirTran and JWA branded travel items.
John Wayne Airport (SNA) is owned by the County of Orange and is operated as a self-supporting enterprise that receives no general fund tax revenue. The Airport serves approximately nine million passengers annually, reaches over 20 nonstop destinations in the United States and Canada and Mexico. More information can be found at www.ocair.com.
AirTran Airways, a wholly owned subsidiary of Southwest Airlines Co., has been ranked the top airline in the Airline Quality Rating study three times in the past five years. AirTran offers coast-to-coast service on North America's newest all-Boeing fleet. The airline's low-cost, high-quality product also includes assigned seating and Business Class. To book a flight, visit airtran.com.
# # #