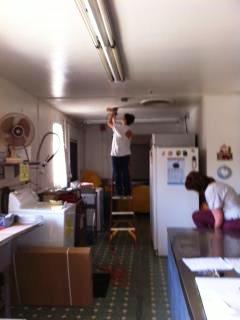 FOR IMMEDIATE RELEASE
WISEPLACE AND ORANGE COUNTY UNITED WAY TO WELCOME ASP
ASP Volunteers to Paint Orange County Women's Shelter
SANTA ANA, Calif. (Aug. 28, 2012) – WISEPlace and Orange County United Way (OCUW) join in welcoming volunteers from Advanced Sterilization Products (ASP), a Johnson & Johnson Company focused on developing infection prevention solutions, August 29, in a day of community involvement and volunteering. The volunteers will dedicate an afternoon painting the exterior of the WISEPlace facility.
More than 20 men and women from ASP are scheduled to appear with their spirits high and their sleeves rolled-up between 1-5 p.m. on August 29. ASP volunteers will cooperate with their team members to paint the WISEPlace facility located on Broadway Boulevard in Santa Ana.
For more than eight decades, WISEPlace has used its resources to invest in the community and meet community needs. This will be the first major painting project the facility has received since first opening its doors in the late 1920s. For more information on WISEPlace, its programs or upcoming events, please visit www.wiseplace.org or join us at www.facebook.com/wiseplace.
WISEPlace is an Orange County United Way partner agency. OCUW supports its Steps to Independence Program which provides transitional housing and supportive services for homeless women.
ASP has been an Orange County United Way corporate partner for the past 25 years. Last year, ASP employees raised a significant amount of money to support United Way's education, income, and health work throughout Orange County and were one of our top corporate partners.
###
About WISEPlace
WISEPlace is a nonprofit organization that offers housing and support services for homeless women who are committed to changing their lives. The Steps to Independence and Positive Step Programs provide housing, food, clothing, physical and emotional nourishment, as well as support services such as individual counseling, résumé writing, interviewing support, and affordable housing assistance.
Founded in 1924, as the South Orange County YWCA, the agency opened its first facility in 1929. Similar to other YWCA facilities, the South Orange County YWCA offered arts, crafts & training to women in the community. In response to the growing number of homeless women in the county, the agency launched a successful $1.1 million campaign to open the Hotel for Women in 1987, its flagship program today. The Hotel for Women is a transitional housing facility that houses 30 residents; it has served more than 6,500 residentssince inception.
In January 2000, the South Orange County YWCA disaffiliated from the YWCA of the USA to concentrate its resources on local homeless issues, and in 2000 officially change its name to WISEPlace, with WISE being the acronym for Women Inspired, Supported and Empowered.
About Orange County United Way
Orange County United Way is a nonprofit organization that works to improve lives by mobilizing the caring power of Orange County to strengthen OUR community. To do this, we focus on the Building Blocks for a self-sufficient life: Education, Income, and Health, by investing in Orange County children, families, and individuals, helping them meet their most basic human needs—food, shelter, and medical care—while creating pathways to self-sufficient futures through education and training. In short, we help people help themselves. To learn more, or to join our movement, visit www.unitedwayoc.org.
About Advanced Sterilization Products (ASP)
ASP (Advanced Sterilization Products), a Johnson & Johnson company, is a global developer of innovative infection prevention solutions and educational programs. For 25 years, the company has been dedicated to protecting patients, healthcare workers, and the environment with technology, products, and services that focus on raising the standard of care. ASP is based in Irvine, California, USA with offices around the world. Please visit ASP at www.ASPJJ.com, on Facebook at www.facebook.com/ASPJJ, follow us on Twitter @ASPJJ and see videos at http://www.youtube.com/user/InfectionPrevention.