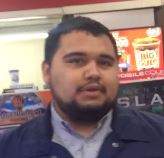 A 22-year-old Pablo Eduardo Nava Diaz of Santa Ana, a 7-Eleven cashier, was arrested on Sunday after a woman said he videotaped her while she used the store's bathroom, according to the O.C. Register.
The woman called the Westminster police at about 7:40 p.m. on Sunday night from the 7-11 store at Newland Street and Westminster Ave. The woman said that a store clerk had used a cell phone to record her while she was using the store's bathroom.
Diaz was arrested on suspicion of invasion of privacy and for an outstanding warrant stemming from a charge of driving without a license last year.
A video was posted on Facebook on Sunday showing the woman talking to Diaz and accusing him of the crime in question. The police have not verified that the man in the video is Diaz but the person who recorded the video said it was the same 7-11 store and the video was shot at the time when the police were called.
So far the police have not released any details as to how Diaz allegedly recorded the woman. The case remains under investigation.
Investigators are not releasing details of how Diaz recorded the woman. The investigation is ongoing.
Diaz is being held at the O.C. Central Men's Jail pending a bail of $2,500.