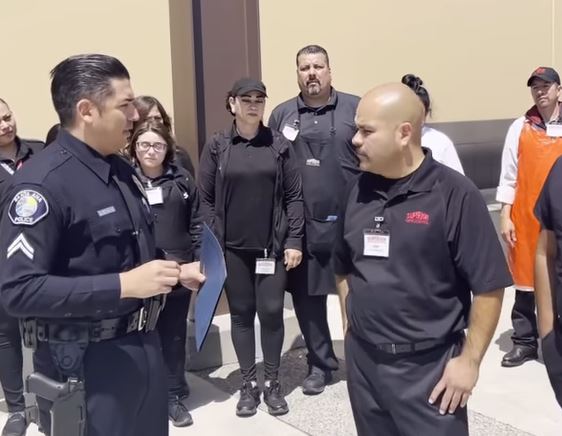 On 3/12/2022, an elderly male victim was assaulted at Superior Market, a local grocery store. The victim arrived at his home with multiple visible injuries, however, due to his dementia, could not recall what happened to him.
The store manager, Jose Rubio, monitored his store surveillance video and saw the assault take place. Jose recognized the victim to be a regular customer, who often came with his wife. He also recognized the suspect as a troublesome homeless subject.
Days later, Jose saw the victim's wife and mentioned what he observed on the video surveillance. Jose urged the victim's wife to contact the police department and assisted the couple in reporting the assault.
Jose went a step further and collaborated with robbery detectives in every step of the investigation.
If it were not for Jose's observations and assistance in this case, this case would have potentially gone unreported or unsolved.
On behalf of SAPD Chief of Police David Valentin, Corporal Castorena awarded Jose a certificate of recognition for his commitment in assisting in a critical assault investigation.