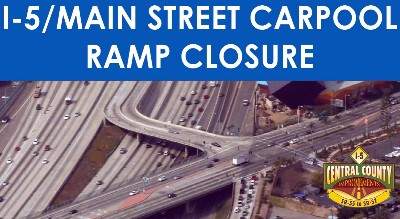 The I-5/Main Street carpool ramp is expected to be permanently closed the first week of April to prepare for demolition this summer. Activities prior to the bridge closure include adjusting traffic signals, restriping lanes and installing temporary barriers on Main Street.
The Orange County Transportation Agency (OCTA) invites you to learn about updates on the I-5 FWY improvement project between SR-55 and SR-57. A neighborhood meeting about the ramp closure and demolition will be held on Saturday, March 23, 2019 9 am – 10:30 am at Hoover Elementary School, located at 408 E. Santa Clara Avenue. Refreshments will be provided. Attendees are welcome to bring their lawn chairs.
Sign up to recieve weekly construction alerts at octa.net/i5central by visting our Stay Connected Tab.