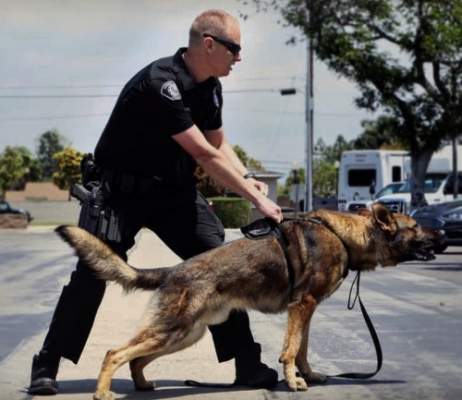 On Monday, October 26, 2020, at 9:45 a.m., Garden Grove Police Department officers were dispatched to 10742 Westminster Ave after getting reports about the brandishing of a weapon.
The calling party advised the subject was in possession of an ax and was last seen entering a Honda Accord. Officers were able to quickly locate the vehicle driving south on Euclid St. As the call progressed, it was upgraded to a robbery.
A high risk vehicle stop was attempted, but the suspect failed to yield. Eventually, he drove into the driveway of a home in Santa Ana.
Officer used their patrol units to block the suspect vehicle in and began giving verbal commands. The suspect placed his car in reverse, rammed one of the police cars and continued to accelerate for a short time, before placing the car in drive and eventually coming to a stop a short distance later.
The suspect immediately exited the vehicle and was again uncooperative with commands. At one point, the suspect walked to the passenger side of his vehicle, opened the door and reached into the interior.
As he continued to ignore verbal commands and began walking towards the residence, the less lethal shotgun was deployed and struck him three times in the upper leg, with no effect.
The suspect then walked out of sight towards the residence. As officers advanced towards his last location, they were met by three subjects exiting who stated he was inside.
Eventually it was learned the suspect was a family member and suffered from #schizophrenia. Once containment of the residence was set, officers began giving verbal commands in both English and Vietnamese, but were unsuccessful.
After all verbal communication and cell phone calls were exhausted, and the suspect continued to refuse to surrender, K9 Police Dog Kody was deployed to locate and apprehend him.
The suspect was taken into custody, transported to a local hospital for his injuries, and later booked into OCJ for robbery and assault with a deadly weapon on a police officer. The ax used in the initial crime was also located in the suspect vehicle, on the passenger seat.