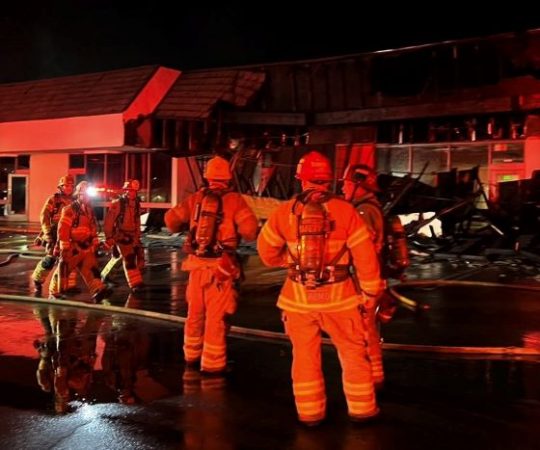 Garden Grove – A second alarm was requested by initial crews and over 40 firefighters responded to the 12500 block of Valley View St. in Garden Grove for a fire in a strip center. Shortly after firefighters arrived, a partial collapse of the mansard occurred. Fortunately, no one was injured. The fire has been declared knocked down, and crews are checking for extension.
The call came in at 8:41. Our fire investigators are on scene, and no cause has been determined yet. Assistance was provided by the Huntington Beach Fire Department and the Garden Grove Police Department.
Update: Damage to the structure was estimated at 1 million dollars and $250,000 to contents. Firefighters kept the majority of the fire to the exterior mansard roof, affecting only four units while preventing the spread to the majority of the complex. The cause is still under investigation.
The units that appear to affected include the Bagelry and Bistro; Roots and Mane; Augustino's Italian Restaurant and possibly a Marley's Preschool.