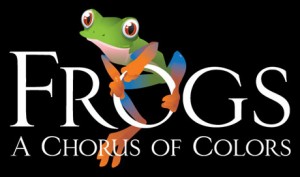 This Saturday, May 15, is Adults Free Day at Muzeo, in Anaheim.   Kids, grab mom or dad and head on over to Muzeo!  This is a special Imagination Celebration Event.
FROGS: A Chorus of Colors, at Muzeo, in Anaheim
February 13, 2010 – September 5, 2010
Frogs! introduces visitors to the amazing and sonorous world of anurans – the frogs. These fascinating amphibians are among the most visually stunning, vocally pleasing and adaptively remarkable life forms on earth.
The exhibit includes over 100 live frogs! Learn about their rich and diverse world, explore their evolution, biological importance to ecosystems and the threats they face in changing environments.
15 Frog habitats complete with naturalistic decor, filtration and life support systems.
12 Interactive components.
35 Backlighted informative panels.
Throughout the exhibition visitors are immersed in the sights and sounds of frogs.
Frog habitats, complete with rock ledges, live plants and waterfalls, protrude through the island walls.
Living frogs from around the world offer a glimpse of the vast pallet of frog diversity.
Frogs – A Chorus of Colors includes self-contained custom habitats that provide lighting, humidity, temperature and water quality control to meet the needs of the exhibit animals and guests.
Muzeo Hours: 10:00 a.m.–5:00 p.m. 7 days a week
Muzeo Address: 241 S. Anaheim Blvd., Anaheim, CA 92805
Parking is available in the structure on the corner of Center Street Promenade and South Lemon Street.
Phone: 714-95.MUZEO (714-956-8936)
Email: info@muzeo.org