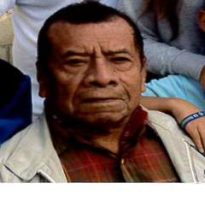 Santa Ana Police Department
Advisory: MISSING PERSON: ZENAIDO CASTRO VENEGAS (91) SANTA ANA
Described as a 91 year-old, Hispanic, Male, 5'05, 157 lbs., Black hair, Brown eyes, wearing Blue and White plaid shirt and Blue pants.
Location last seen in the area of (McFadden Ave. between Fairview St. / Harbor Blvd.) Venegas was last seen on Wednesday, September 7th at 1:00 PM.
Venegas has been diagnosed with early stages of dementia. He has high blood pressure and severe hearing loss. Venegas relies on his family for his transportation needs and does not usually venture out on his own. Venegas does not utilize the bus system. He is a widower and has recently been talking about his desire to return to Quchultenanlgo, Mexico.
If located please contact Santa Ana Police Watch Commander (714) 245-8701, Dispatch (714) 834-4211 or Missing Persons Investigator Velarde-Reyes (714) 245-8393.