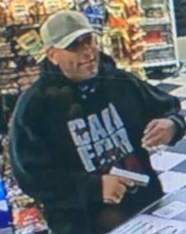 Advisory: Santa Ana PD is bringing back our #MostWantedWednesday series!
On October 18, 2017 Santa Ana PD detectives released pictures and video surveillance footage of an armed robbery that occurred at 617 E. 17th Street – Santiago Food Mart-76 Gas Station. This armed robbery suspect remains unidentified and we are requesting media and public assistance to get suspect identified.
Location: 617 East 17th Street. Santiago Food Mart-76 Gas Station
Suspect: Male White, 40-45, 5'7" to 5'9" tall, 170-190 lbs., was wearing a black hoodie with "CALIFORNIA" on the front, blue jeans, beige baseball cap and a blue/white bandana around his neck.
On 10/17/17, at 9:50pm, the suspect entered the store and approached the two cashiers. The suspect quickly pulled out a silver and gray semi-auto handgun and a pink tote bag. The suspect pointed the firearm at the female cashier and ordered her to put the money from the registers into the bag. The cashiers complied with the suspects demands. The suspect fled on foot in an unknown direction with the bag containing the money.
Surveillance Video:
Anyone with information identifying the suspect in this case is asked to contact Detective Greaver at (714) 245-8362 or DGreaver@santa-ana.org or Orange County Crime Stoppers at 1-855-TIP-OCCS.