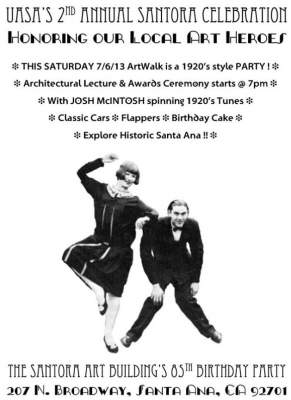 **** PRESS RELEASE ****
For Immediate Release July 4, 2013
Press Contact: info@unitedartistsofsantaana.org
2ND ANNUAL SANTORA CELEBRATION HONORS LOCAL ART HEROES
United Artists of Santa Ana (UASA), the galvanizing group that successfully challenged the sale of the Santora to a religious group last year, reboots their annual spotlight on the historic art building with a 1920's theme ArtWalk and an Architectural lecture & Award Ceremony starting at 7pm in the Santora Lobby, 207 N. Broadway, 92701. The event's architectural lecture will be given by Tim Rush, President of the Santa Ana Historical Preservation Society.
As with the previous year, honorees are chosen for their work in the City of Santa Ana on behalf of Arts & Culture.
This Year's UASA Art Heroes include:
Councilman David Benavides, Ward 4 (Editor's Note – it was his church that tried to buy the Santora)

Tim Rush, Founder, Santa Ana Historical Preservation Society

Moises Camacho, Artist Village Artist of the Year

Kathie Warren, Santora Artist of the Year
Retro DJ, Josh McIntosh will be on hand spinning 1920's classics in the Santora lobby 7/6 starting at 6:30pm followed by live bands later that same evening. Since this weekend commemorates the Santora Art Building's 85th Birthday, UASA will be serving cake!
As the first public art hub in Orange County in 1928, a joint project between Santa Ana & Orange, the Santora Arts Building is the cornerstone of the DTSA Artists Village. Every month, thousands of visitors flock to downtown Santa Ana for their monthly ArtWalk comprised of museums, galleries, artists studios and artisanal merchants located in & near the picturesque Artists Village Promenade on 2nd Street (between Broadway & Sycamore).
UASA is an artist service organization advocating for an inclusive and community-focused Arts Commission, mural & public art programs, increased film & tv shoots in the City's historic core and affordable live/work housing. For more information about UASA, visit their website & Facebook page:
www.unitedartistsofsantaana.com
https://www.facebook.com/uasantaana