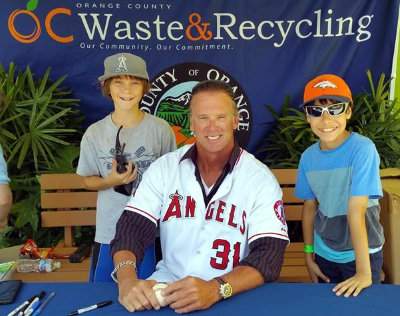 2200 lbs. Collected During Eco Challenge Event to 'Keep Orange County Clean & Green'
Local Community Donates E-waste, Household Goods and Gently Used Clothing for Priority Access to Meet Angels Alumni Chuck Finley
Santa Ana, Calif., August 26, 2015 – Discovery Cube Orange County and OC Waste & Recycling teamed up with Goodwill of Orange County and Angels Baseball for the final Eco Challenge Day collection event of the year on Saturday, August 22, 2015 at Discovery Cube Orange County in Santa Ana. An estimated 2200 lbs. were collected from the event. Past events have collected over 10 tons of e-waste and gently-used clothing. This year there free certified paper shredding was available, in addition to disposal services for e-waste, gently used clothing, and household goods.
The Orange County community was encouraged to participate and donate e-waste, gently used clothing, and household goods. Every participant had priority access to meet Angels' alumni Chuck Finley and the first 150 cars to bring their items to recycle received four free general admission tickets to the newly renovated Discovery Cube Orange County.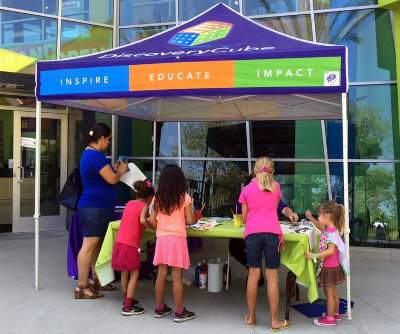 There were several educational booths with fun activities on-site for those who participated. OC Waste & Recycling gave out free battery buckets for safe battery disposal, reusable Eco Challenge totes, and Eco Challenge sandwich containers or lunch bags for children. Discovery Cube OC provided reusable grocery bags for kids to decorate and conversations about reducing plastic waste.
For more information, please visit www.ocEcoChallenge.com.
Event Participants Included:
CHUCK FINLEY – Angels alumni met fans and signed memorabilia.
OC WASTE & RECYCLING – Taught participants about County's Eco Challenge Program.
DISCOVERY CUBE OC – Provided discussions about reducing plastic waste. Children decorated their own reusable grocery bags.
GOODWILL OF ORANGE COUNTY – Goodwill provided donation collection services of reusable clothing, electronic waste, household items, and paper shredding services.
OC MOSQUITO AND VECTOR CONTROL DISTRICT (OCMVCD) – Taught participants about the dangers of vector insects and vector-borne diseases through education and literature.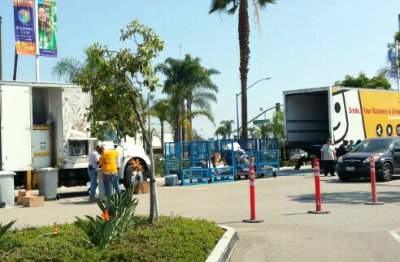 About Discovery Science Foundation
The Discovery Science Foundation serves as the program-development, marketing and fundraising arm for hands-on science learning museums in Orange County and Los Angeles. Established in 1989, the original non-profit Taco Bell Discovery Science Center in Santa Ana, now renamed Discovery Cube Orange County, presented by Taco Bell, continues to inspire and educate millions of young minds through engaging science based programs and exhibits. In 2012, the Center was named one of the ten "Most Trusted Brands" in Orange County and in 2013 was awarded the National Medal of Service from the Institute of Museum and Library Services.
In November 2014, Discovery Cube Los Angeles, a second nonprofit museum offering an exhibit and program mix unique to Los Angeles, opened in the Hansen Dam Recreational Area of the San Fernando Valley. For more information, call (866) 552-CUBE (2823) or visit discoverycube.org. Follow the Orange County and Los Angeles campus on Twitter (@DiscoveryCubeOC and @DiscoveryCubeLA).
About the County of Orange and OC Waste & Recycling
The mission of the County of Orange is to make Orange County a safe, healthy, and fulfilling place to live, work, and play, today and for generations to come, by providing outstanding, cost‐effective regional public services. OC Waste & Recycling helps fulfill this mission by meeting the County's solid waste disposal needs by providing waste management services, protecting the environment, and promoting recycling in order to ensure a safe and healthy community for current and future generations.
OC Waste & Recycling manages one of the nation's premiere solid waste disposal systems serving 34 cities and over three million residents. On behalf of local residents and businesses, OC Waste & Recycling has developed a solid waste management system composed of a network of three active landfills and four household hazardous waste collection centers.
About Angels Baseball
The Los Angeles Angels joined Major League Baseball as an expansion team in 1961 and have since gone on to win 10 American League Western Division Championships, host three All-Star games and capture the 2002 World Series Championship. Over its 55-year history, the franchise also boasts three MVP's, two Cy Young winners, two Rookie of the Year winners, 34 Rawlings Gold Glove winners and 145 All-Stars. Visit the Angels online at www.Angels.com, follow them on Twitter @Angels and like them on Facebook at www.facebook.com/Angels. For media information, visit www.angelspressbox.com.
About Goodwill of Orange County
Since 1924, Goodwill of Orange County has been in the business of helping people who are facing barriers to enter the workforce in a meaningful, fulfilling manner. Founded on the belief that every person should have the opportunity to achieve the independence that work provides, Goodwill is most recognized for being the conduit where donated goods are sold in America's favorite thrift stores to generate the revenue that provides the services to those who face employment challenges. Celebrating its 90th year in 2014, Goodwill of Orange County has supported thousands of Orange County residents since its inception by creating and providing quality training and employment services to empower its program participants to be productive and independent. The nonprofit organization has dozens of programs that support this effort, including the Goodwill Fitness Center, Orange County's only facility specially designed for people suffering from chronic illnesses and physical disabilities; its veterans' advocacy program, Enduring Independence, which helps veterans and their families transition to civilian life through the power of work; and its Assistive Technology Exchange Center (ATEC), which provides access to more than 1,000 state-of-the-art technology devices for children and adults with disabilities. These are just a few of Goodwill of Orange County's innovative programs that have served those facing barriers in Orange County for the past nine decades. In 2012, Goodwill was named one of Orange County's Most Trusted Brands. To learn more about Goodwill of Orange County, visit ocgoodwill.org.
# # #