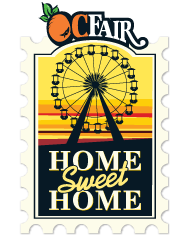 Orange County Fair
For Immediate Release
2012 OC Fair "Cheat Sheet" For Family Fun
Costa Mesa, Calif.  – There is so much to see and do at the 2012 OC Fair (July 13-August 12) for families and beyond. This year's Fair, themed Home Sweet Home, offers a variety of free entertainment for the whole family. Here's a cheat sheet of all the fun things to do and ways to save at the Fair:
Save on Admission
• Kids Day – Every Thursday, children 12 and younger are free – all day! (Thursdays, July 19, 26 & August 2, 9)
• Seniors Day –Senior family members (60 and older) can enjoy the Fair with the family for $2 off all day Fridays, plus free merry-go-round and Ferris wheel rides. (Fridays, July 13, 20, 27 & August 3, 10)
• Opening Hour – Arrive early at the 2012 OC Fair and get in for free! Free admission and parking for every family member from Noon-1 p.m. opening day Friday, July 13.
• Rise & Shine – Admission is only $2 during the first hour Saturdays and Sundays. (10 a.m.-11 a.m., July 14-15, 21-22, 28-29 & August 4-5, 11-12)
• We Care Wednesday – Help the community by donating through the Fair's weekly community drives and receive free admission and one free carnival ride. Donations accepted from Noon-4 pm on: July 18 – 5 canned food items; July 25 – 1 new or 3 gently used children's books; August 1 – 5 gently used items of clothing; and August 8 – 1 school supply worth at least $5.
Save Inside the Fair
• Taste of Fair Food: Every Friday from Noon-4 p.m., Fairgoers can sample their way through the Fair for only $2 a taste. Fair vendors will be selling samples of ice cream, pulled pork, shave ice, funnel cake, fried Oreos, sausage and more. (Fridays, July 13, 20, 27 & August 3, 10)
• Read & Ride Program – Children (5-11) who submit a completed two-book report form available on ocfair.com will receive three free carnival rides.
• Carnival Promotions – Ultimate thrill-seekers can enjoy $30 unlimited ride wristbands on Wednesday and Thursday and $2 rides and games on Friday.
Free With Fair Admission
There are many free exhibits and family-friendly that are included with Fair admission:
• Daily Free Entertainment: In addition to the diverse Fair lineup of children's dance troupes, magicians and local bands, every day visitors can enjoy the amazing acrobatic feats of the Peking Acrobats (multiple shows nightly on Plaza Arts Stage), the cute competitiveness of the All-Alaskan Racing Pigs (multiple shows daily in the Livestock Area) and the beauty of the stilted and costumed Dragon Knights (all day throughout the grounds).
• Learn & Experience: Children of all ages can enjoy the hands-on exhibits and games in the Fun Zone or peruse through the award-winning artwork and home art competitive entries in the Visual Arts and Home Arts Galleries. Free demonstrations are held daily in each building as well as on the Exhibit Promenade Stage.
• Get Competitive: Nightly, children can compete in food eating contests in the Fun Zone (sign-ups at 6 p.m., contests start at 6:30 p.m.) and every singer in the family can belt out their favorite tunes with the support of a live band and in front of a live audience during the Karaoke Rockstarz held daily at 8 p.m. on Meadows Stage.
• Special Exhibits & Entertainment: Learn about the wonderful world of chocolate from "bean to bar" in the Chocolate Unwrapped exhibit in the Exhibit Promenade daily. Fairgoers, young and old, are invited to Yarn Bombing Day on July 15 when amateurs and experts will cover Fair Square with colorful knitted and crocheted yarn art. The Fair will be hopping with the return of Pogopalooza on July 26-28 with more world-record extreme pogo stick attempts in Fair Square. The Girl Scouts will commemorate their 100th anniversary with a special daily exhibit and one day (July 27) of performances, demonstrations and more from local Girl Scouts. The majestic beauty of the iconic Budweiser Clydesdales will be on display August 1-12 in Livestock with demonstrations and an exhibit plus a nightly trot through the Fair. New this year, the Oasis Camel Dairy will share their alternative to the dairy cow with exhibits and daily milking demonstrations from August 1-12 in Livestock.
• Free Action Sports: Avid action sports fan can enjoy demolition derbies, canine-agility demonstrations, motocross, BMX jumping and more with their Fair admission in the Action Sports Arena. Limited free-with-Fair seating is available each show on a first-come, first-seated basis. Reserved seats are available for purchase and include free Fair admission.
The 2012 OC Fair, themed Home Sweet Home, is July 13 – August 12 and will bring 23 days of food, rides, exhibits, animals, music, action sports and fun, as well as the Super Pass, Toyota Summer Concert Series at the Pacific Amphitheatre, The Hangar and Action Sports Arena. The Fair is open Wednesday-Sunday. Concert tickets, action sports reserved seats, single-day general admission and the popular Super Pass are available for purchase online at ticketmaster.com or from the on-site Box Office.
The OC Fair & Event Center is located off the 405 and 55 freeways at 88 Fair Drive in Costa Mesa. For more information, please visit ocfair.com, become a fan at Facebook.com/OCFair, follow us at twitter.com/ocfair or call (714) 708-1500. Also, look for the free OC Fair iPhone and Android apps this summer. Get excited for the 2012 Fair! Watch our new commercial on YouTube.