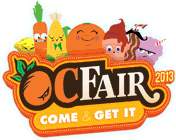 Media/Press Contact: Robin Wachner, Communications Department (714) 708-1543.
100,000 Deep-Fried Oreos Later, The OC Fair Closes 2013 Season With Second Highest Attendance Ever
Costa Mesa, Calif. (August 12, 2013) – After the last pickle was wrapped in bacon, corn dog deep-fried, piglet petted, carnival plush won and concertgoer rocked, 1,374,579 Fair-goers had heeded the OC Fair's invitation to "Come & Get It" in 2013.
For the 2013 season, which ran from July 12-August 11, the OC Fair saw its second highest attendance. Plus the Pacific Amphitheatre saw its top-grossing summer concert series which included 11 sold-out concerts. Here are more fun facts about the 2013 OC Fair:
Food at the 2013 OC Fair:
Chicken Charlie used 7,500 gallons of vegetable oil to fry up 24,000 Bacon-Wrapped Pickles, 100,000 Deep-Fried Oreos, and other wild concoctions like 25,000 balls of his top-selling Deep-Fried Cookie Dough.
Biggy's Meat Market sold nearly 2,000 Big Chics on a Stick and 4,500 The Big Ribs, and used 13,500 pounds of potatoes for orders of giant Curley Frys.
Bacon A-Fair used 20,000 pounds of bacon around turkey legs, inside chocolate, wrapped around cheesy bombs or sprinkled around chocolate peanut butter bananas.
Tasti Chips used 23.75 tons of potatoes and 690 gallons of cheese sauce.
Juicy's sold more than 75,000 smoked turkey legs and used 300 gallons of ketchup and 250 gallons of mustard.
Fun at the 2013 OC Fair:
Fair-goers quickly snapped up wallet-friendly tickets in all three venues at the Fair and the first shows to sell out were the Monster X Tour – Monster & Tuff Trucks (July 24) in the Action Sports Arena, Hotel California – A Salute to the Eagles (July 12) in The Hangar, and Daryl Hall & John Oates (August 8) in the Pacific Amphitheatre.
The Pacific Amphitheatre was the stage for sell-out concerts by Steel Pulse / Iration, The Go-Go's, The B-52s & X, The Counting Crows with The Wallflowers, Weezer, The Dirty Heads / The Expendables / The Originalites, ZZ Top, Styx, Hunter Hayes / Sara Haze, Daryl Hall & John Oates, and Rebelution / Matisyahu / Collie Buddz.
In addition to the free community entertainment during the day, The Hangar featured sold-out performances by Hotel California – A Salute to the Eagles, Mariachi Sol de Mexico de Jose Hernandez, Journey Unauthorized – A Tribute to the Music of Journey, Heartbreaker – A Live Rock Tribute to Led Zeppelin, Ozomatli, Which One's Pink? – A Fair Forgery of Pink Floyd, J Boog / Common Sense, and Dead Man's Party – The Oingo Boingo Tribute.
In the Action Sports Arena, Fair-goers packed the bleachers for four out of the five nights of Monster X Tour (Monster Trucks, Tuff Trucks and Quad Racing), both nights of Orange Crush Demolition Derby, both nights of Motor Home Demolition Derby and the Damsels of Destruction Demolition Derby.
More than 52,000 daredevils had unlimited fun in the carnival on Unlimited Ride Wristband Dayson Wednesdays and Thursdays.
The top five rides for little kids were: Cobra Coaster, Pirate's Island, Carousel, Goliath Slide and Silver Streak.
The top five rides for big kids were: La Grande Wheel, Sky Ride, Crazy Coaster, Wild River and Rave Wave.
Skilled Fair-goers won about a half million plushes at the Ring Toss, Basketball Toss, Water Balloon and other games with the Despicable Me minion and unicorn prizes being the most popular to take home as a Fair souvenir. How popular? Approximately 25,000 minions went home with talented Fairgoers.
The OC Fair was the stage for free community entertainment from some 331 bands, singers, dance groups and comedians with more than 6,200 performers having a moment in the spotlight.
Savings at the 2013 OC Fair:
More than 478,500 Fair-goers got into the Fair for free or at a discount through the numerous special days, donation drives and coupons available this year.
Some 12,400 Fair-goers were the ultimate Fair fan with their Super Pass valid for 23 days of admission.
Some 82,400 generous Fair-goers donated canned food, children's books, clothing and school supplies for free Fair admission during the four We Care Wednesday donation drives.
More than 14,900 young bookworms earned  46,000+ free carnival rides through the Read & Ride Program.
Contests at the 2013 OC Fair:
The OC Fair offered more than 640 ways for people with a competitive streak to show off their skills in baking, preserving, painting, photography, and more.
Of the 860 individual cupcakes that were walked into the Fair for the popular OC Cupcake Classicon August 3, the judges had to taste 30 each while judges of the Get Baking Cookie Contest on July 20 had to taste 28 cookies each of the 140 individual cookies brought that day.
Judges in the numerous Culinary Arts contests used more than 980 tasting spoons and forks to judge cakes, preserves, salads, chili, breads, and pies.
Some 2,400 ounces of preserved fruits and vegetables were entered this year. The oddest culinary entries submitted were Dried Shiitake Mushroom Jerky, Carrot Cake Jam and Snickers Bar Fruit Salad. The most unique culinary arts entries were Hillbilly Table-Setting and Zombie Wedding Cake.
The Visual Arts Gallery used 3,584 nails and hangers – each – to display the many award-winning photographs, paintings and multimedia entries received this year.
The annual Jr. Livestock Auction saw 357 entries sell for more than $255,500 to benefit the education of 4-H and FFA youth participants.
The tallest entry in the Floral Arrangement competition was 32 inches and the shortest was 6 inches with the most popular flowers used in any entry being roses and carnations.
Tomatoes were the most popular entry in the weekly Garden & Floral competitions and the most common entry in Cut Flowers was the rose – America's favorite flower.
Memories at the 2013 OC Fair:
The most popular member of the OC Fair's new Fair Foodies team was Olivia the Orange who made up 35 percent of all the sales of OC Fair Foodie plush toys.
The OC Fair welcomed representatives from 30 Orange County cities for its new Community Flag Salute ceremonies with 216 Boys & Girls Club youth members and counselors helping to lead crowds in singing the National Anthem every week day.
The Centennial Farm welcomed 16 piglets and the Great American Petting Zoo welcomed two lambs and two pygmy goat kids. And not to be outdone, the new Dr. Entomo's Palace of Exotic Wonders – Insect Exhibit welcomed 40 Cave Cockroaches to its family.
Fair-goers fed the cute animals at the petting zoo 2,300 pounds of food pellets over 23 days.
Muddy's used four tons of clay as they molded beautiful vases, mugs and more during the free daily ceramics demonstrations while 150 pounds of sawdust landed on the floor of the free daily woodworking demonstration area.
Nearly 32,000 Fair-goers crammed into a photo booth with their friends and loved ones.
The OC Fair, held at the OC Fair & Event Center, is an annual summer tradition in Southern California offering 23 days of food, rides, exhibits, animals, music, action sports and fun, as well as headline concerts in the Pacific Amphitheatre. The OC Fair & Event Center is located off the 405 and 55 freeways at 88 Fair Drive in Costa Mesa and features a variety of events throughout the year. For more information, please visit ocfair.com, become a fan at Facebook.com/OCFair, follow us at twitter.com/ocfair or call (714) 708-1500.