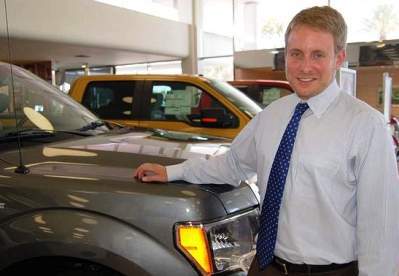 Orange County District Attorney
Press Release, For Immediate Release: December 6, 2012
Contacts:, Susan Kang Schroeder, Chief of Staff, Office: 714-347-8408, Cell: 714-292-2718
Farrah Emami, Spokesperson, Office: 714-347-8405, Cell: 714-323-4486
100 STUDENTS INVITED FOR AN INSIDE LOOK AT FORD REGIONAL HEADQUARTERS FOR GANG PREVENTION INCENTIVE
*Media interested in attending are asked to arrive at the Ford building by 8:30 a.m. on Dec. 7, 2012
ORANGE COUNTY – Ford Motor Company (Ford) has invited 100 elementary and middle school at-risk students to visit the Ford facilities as an incentive for positive behavior, perfect attendance, and staying out of gangs. To earn this reward, the students met a challenge to have no unexcused absences, criminal activity or arrests, violence or weapons on campus, and no gang-related clothing, writing, or behavior.
During the visit to the Ford Irvine headquarters, the students will spend time with Ford's design team learning about the studio design process, including the Ford Shelby GR1, the Lincoln MKR and the Ford START, three futuristic concept cars. They will also experience an interactive look at the latest Ford police vehicles with Orange County law enforcement officers. Lunch will be provided courtesy of Taco Bell.
Media interested in attending the event may contact Orange County District Attorney Spokesperson Farrah Emami at (714) 347-8405 to RSVP.
Ford has teamed with Orange County law enforcement in the Orange County Gang Reduction and Intervention Partnership (OC GRIP), which aims to prevent juveniles from being victims of or participants in gang crimes by identifying at-risk youth, increasing school attendance, and decreasing gang activity.
"OC GRIP is a powerful partnership with the community, and Ford is thrilled to be a participant," stated Tom Brewer, General Manager of Ford Motor Company West Market Area. "Our employees have found it tremendously fulfilling to spend time with OC GRIP students. We have shared many stories in common that we hope will provide inspiration toward the students' future success. We are planning a truly special experience for December 7 that will certainly convey that message."
The students will be greeted by guest presenters Henry Ford III, great-great grandson of Ford Motor Company founder Henry Ford, and Mad Mike, star of SPEED TV's "Pimp My Ride," who will explain the dangers of gang membership. Law enforcement officers and prosecutors will also talk to the students about positive life choices and the negative effects of criminal street gangs, including Orange County District Attorney Tony Rackauckas, Chief Deputy Probation Officer Chris Bieber, Orange Police Chief Robert Gustafson, Buena Park Police Lieutenant Gary Worrall, Garden Grove Police Captain Todd Elgin, Santa Ana Acting Chief Carlos Roja, Santa Ana Unified School District Chief David Valentin, Orange County Sheriff Captain Steve Doan and Chiefs Christopher Wilson, John Coppock, John Meyer, and Jeff Passalaqua from the Cities of Mission Viejo, San Clemente, San Juan Capistrano, and Stanton, respectively.
Ford Incentive and Mentoring Program at Elementary and Middle Schools
Between September and December 2012, regional Ford employees, including Henry Ford III, visited OC GRIP schools on three occasions, getting to know the students and sharing what they do in their careers to provide students a close look and how cars are designed and sold.
During these visits, Ford and OC GRIP identified 110 at-risk students, ages 9 to 13 in grades 4 through 8, who were given an incentive to improve their grades, attendance, and behavior. Of the 110 students, 100 students met the challenge and were mentored by Ford employees, including guidance and encouragement for positive decision making and an incentive-driven reward visit to the Ford headquarters.
The 11 schools that participated from the Cities of Buena Park, Mission Viejo, Orange, San Clemente, San Juan Capistrano, Santa Ana, and Stanton, include Gilbert Elementary, Whitaker Elementary, Viejo Elementary, Adams Elementary, Davis Elementary, San Juan Elementary, Robert M. Pyles Elementary, Yorba Middle School, Santiago Middle School, Bernice Ayer Middle School, and Shorecliff Middle School.
As a result of OC GRIP programs, many targeted schools have received as much as $30,000 each from the State for increased student attendance. The Orange County Grand Jury recognized OC GRIP as one of the most effective gang prevention programs in Orange County.
Countywide, OC GRIP is composed of eight law enforcement partners including the Buena Park Police Department, Garden Grove Police Department, Orange County District Attorney's Office, Orange County Sheriff's Department, Orange Police Department, Orange County Probation Department, Santa Ana Police Department, Santa Ana Unified School District Police Department and is active in the Cities of Buena Park, Garden Grove, Mission Viejo, Orange, San Clemente, San Juan Capistrano, Santa Ana, Stanton, and unincorporated North Orange County.
In September 2011, OC GRIP II was implemented as an educational component to OC GRIP in the Cities of Costa Mesa, Dana Point, Garden Grove, La Habra, Laguna Hills, Orange, Placentia, San Juan Capistrano, Santa Ana, and Tustin.
###
Tony Rackauckas, District Attorney
401 Civic Center Drive West
Santa Ana, CA 92701