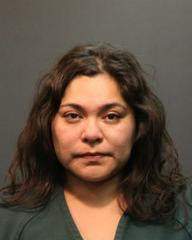 Santa Ana Police Department
Advisory: Traffic Division Investigators continue to investigate serious injury traffic collision
On 03/30/14 at approximately 1843 hours, a 10 year old child was walking with his adult brother in the crosswalk at 17th St. and Cabrillo Park Dr. As they crossed the street, a female driving a 2008, Ford, F150, pick-up failed to stop at a red light as she traveled westbound on 17th St. in the number one lane and struck the child in the crosswalk. The child was thrown approximately 100 feet and landed in the westbound traffic lanes of 17th St.
OCFA Paramedics responded to the scene and transported the child to the hospital where he remains with life threatening injuries. The female driver identified as Suray Leon (33), Santa Ana resident remained at the scene and was cooperative during the entire investigation. During the investigation it was determined that Leon the vehicles driver was under the influence of alcohol and she was arrested and booked at Santa Ana PD Jail for felony DUI.
Anyone with information or witnessed the collision are asked to call Investigator Bao at (714) 245-8214.
###