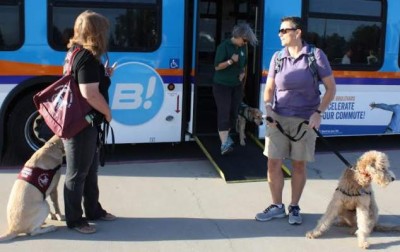 FOR IMMEDIATE RELEASE: March 31, 2014
FOR MORE INFORMATION: Joel Zlotnik (714) 560-5713, Eric Carpenter (714) 560-5697
NEWS ADVISORY: Dogs Will Pack OCTA Buses For Day of Training
WHAT: Dogs riding buses. More than 100 service animals and their handlers are expected to attend a unique training event on April 5 that will help them get accustomed to navigating the public bus system.
Handlers will work with their therapy and service animals – including Golden Retrievers, Labradors, poodles and more – continually boarding, riding and exiting an Orange County Transportation Authority bus so they can get familiar with large groups of people, loud noises and unfamiliar sights and sounds. Participants also will get access to the Knott's Berry Farm theme park, where they will encounter the sounds of whizzing rollercoasters, children running toward their favorite rides and plenty of other activity.
OCTA traditionally holds the event each fall on the first Saturday of October. This is the first time the event is being held in the spring, too.
When the event was held last fall, it attracted more than 150 animals and 200 trainers.
An OCTA bus will make the two-mile trip from the Fullerton Park-and-Ride to Knott's Berry Farm every 20 minutes. Participants ride for free and are encouraged to make the trip multiple times.
Media members are invited to cover the event, which offers excellent video and photo opportunities.
WHEN: 8 a.m. to 1 p.m. Saturday, April 5
WHERE: Fullerton Park and Ride at 3000 W. Orangethorpe Ave. Fullerton, CA 92833
WHY: This is the seventh year that OCTA and Knott's Berry Farm have offered this successful training opportunity, enabling therapy and service animals and their trainers to make riding a bus a familiar and relaxed experience. OCTA has been holding similar trainings, even before the partnership with Knott's, for more than 20 years.
A spring date was added this year to accommodate the growing demand and to better meet the needs of the service-animal community because dogs are typically placed every six months. To date, the event has helped train more than 1,100 service animals.
# # #