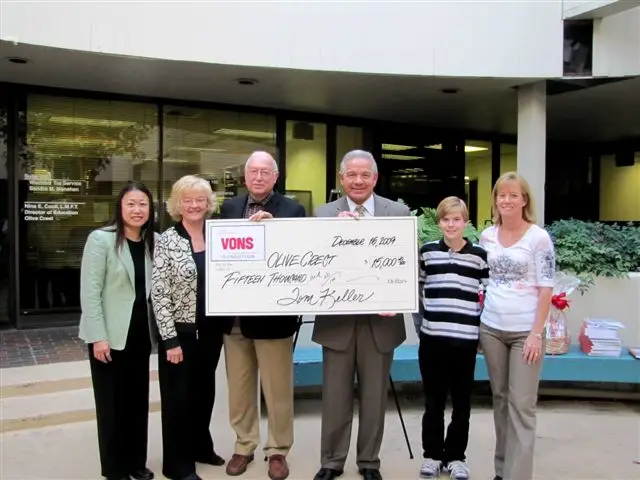 Left to right:  Orange County Board of Supervisor Janet Nguyen joins Olive Crest founders Lois and Dr. Donald Verleur as they accept a check for $15,000 for its Bellflower Family Resource Center from Vons Vice President of Retail Marketing Gary Rocheleau and his family, son Dalton, and wife Bernice
Contact: Carlos Illingworth, Vons Public Affairs
(626) 821-7031 or (626) 367-0786
MEDIA ADVISORY
December 15, 2009
OLIVE CREST RECEIVES $15,000 TO HELP FOSTER YOUTH
WHAT: Olive Crest, a non profit organization committed to preventing child abuse, will receive a $15,000 grant from The Vons Foundation to support the organization's Bellflower Family Resource Center, which provides food vouchers, bus passes and other essential services to foster children and their families.
WHO: Orange County Supervisor Janet Nguyen will join Vons Vice President Gary Rocheleau for the check presentation to Olive Crest Co-Founders Dr. Don and Lois Verleur. Foster youth that have "aged out" of the system will also be on hand to provide verbal testimony as to how Olive Crest's transitional housing program has assisted them during this critical stage in their lives.
WHEN: Wednesday, December 16, 2009, from 3:30PM – 4:30PM
WHERE: Olive Crest
2130 East Fourth Street, Suite 200, Santa Ana 92705
VISUALS: Following the press conference and check presentation, the foster youth will receive a holiday food basket courtesy of Vons.
About The Vons Foundation
The Vons Foundation is the charitable arm of the Vons Division of Safeway, a Fortune 50 company. Established in 1995 as a grassroots fundraising program, The Vons Foundation has grown over the years into a voluntary employee payroll deduction program for Vons and Pavilions employees, which generates up to $750,000 a year to support a broad range of non profit organizations throughout the company's operating territory In 2008, The Vons Foundation merged with The Safeway Foundation and continues the mission of supporting local organizations. More information about the Vons Foundation can be found at www.safewayfoundation.org..
About Olive Crest:
Since 1973, Olive Crest has transformed the lives of over 50,000 abused, neglected, and at-risk children and their families. We work tirelessly to meet the individual needs of kids in crisis by providing safe homes, counseling, and education for both youth and parents. Our many innovative programs reflect our conviction that strengthening the family is one of the most powerful ways to help heal children. With unwavering compassion, the Olive Crest family maintains a lifelong commitment to the youth and families we serve even after they have graduated from our programs. Established, proven, and respected, Olive Crest serves nearly 1,000 children and families each day throughout California, Nevada, and the Pacific Northwest. For information, visit www.olivecrest.org or call 1-800-550-CHILD (2445).
###