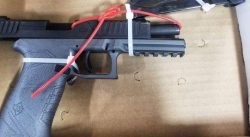 The SAPD had their hands full yesterday. We already posted about the fatal shooting at the Santa Ana Cemetery and their seizure of a large quantity of illegal fireworks as well as the Homeland Security raid that took place in Santa Ana. There was at least one other newsworthy bust by our local police.
SAPD Gang Detectives received a Crime Stoppers Tip regarding a subject in possession of firearms, according to the SAPD's Twitter account.
SAPD police detectives completed a surveillance of the suspect's residence and then stopped the subject as he tried to leave in a vehicle. The subject was determined to be in possession of a loaded 9mm firearm. That gun was seized by the SAPD.
The SAPD did not name the suspect or reveal if he is now facing any additional charges. If the suspect was on parole or on probation, possession of the 9mm gun could definitely lead to more prison time.