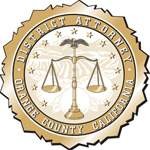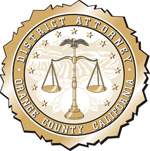 ORANGE COUNTY DISTRICT ATTORNEY PRESS RELEASE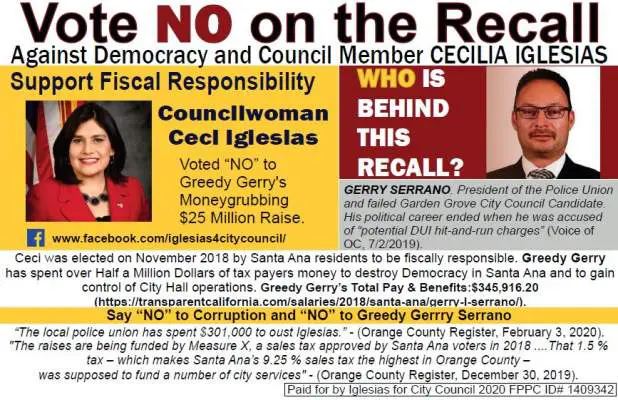 Date: April 6, 2015
Isn't it time for Santa Ana to have a voice on the O.C. Board of Supervisors?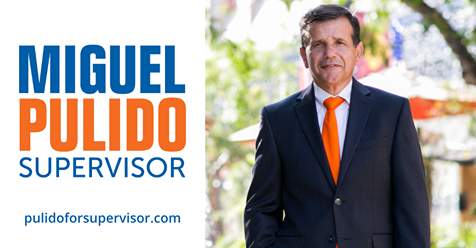 Paid for by Miguel A. Pulido for Supervisor 2020 (ID #1422663)
Advertisement
Is your employer a mess? Call Sasooness.
In the state of California for every 5 hours worked an employee must get a 30 minute, uninterrupted lunch break. For every 3 hours worked an employee must get an uninterrupted 10-minute rest break. Working over 8 hours in a day or 40 hours in a week is due overtime. Don't let your employer screw you! Give us a call at 323 746-8099.
En el estado de California por cada 5 horas de trabajo su patrón le debe permitir tener un receso de media hora sin interrupciones. Si trabaja más de 8 horas en un día o más de 40 horas de trabajo en una semana su patrón le debe pagar tiempo y medio. No deje que su patrón abuse de su trabajo. No importa que no tenga papeles. Usted tiene derechos. Llamenos al 323 746-8099.
Orange County District Attorney Tony Rackauckas is pleased to announce the speakers for the 8th Annual Victims' Rights Rally
WHEN: Monday, April 11, 2016, at 4:00 p.m. (Reception) and 5:00 p.m. (Rally)
WHERE: County of Orange Hall of Administration, 333 West Santa Ana Blvd., Santa Ana
SPEAKERS: Janelle Weinberg, mother of 21-year-old Ariel Johnson, who was killed in a DUI collision in March 2013. She was a passenger in a car being driven by 21-year-old Shauna Ahyen, who was driving under the influence. Ahyen pleaded guilty to vehicular manslaughter with gross negligence while intoxicated and driving with a blood alcohol content of .08% or more causing bodily injury and was sentenced to six years and eight months in state prison in 2014.
During the early morning hours of March 10, 2013, Ariel Johnson and passenger John Doe were being driven home from a party in Placentia by Ahyen, who had refused an offer for a paid cab ride home and was driving under the influence of alcohol. Ariel Johnson was lying down near John Doe who was seated in the back seat of the vehicle when Ahyen drove over a curb, hit a telephone pole, and crashed into a building on Brookhurst Street in Garden Grove. John Doe was taken to the hospital and treated for a broken arm and clavicle. Ariel Johnson was pronounced dead at the scene.
Jackie S. is a survivor of sexual assault and victim of Thomas Johnson, who pleaded guilty to attacking, torturing, and sexually assaulting Jackie. He was sentenced to 34 years to life in state prison in 2015.
Johnson, then 43 years old, lived in a Huntington Beach apartment complex where Jackie S. lived, but did not know the defendant. In the early morning hours on Dec. 22, 2013, Johnson entered Jackie S.'s home. The defendant physically beat the victim using a hammer and struck her multiple times across her body and forcibly raped the victim with a foreign object. At approximately 3:30 a.m., the defendant called 911 and reported the attack.
Jackie S. was taken to a nearby hospital where she suffered a broken jaw in two places, bleeding in the brain, broken bones in her face and behind her ear, permanent hearing loss, lacerations on her face, facial fractures, and air trapped around her heart and neck. She also suffered a stroke two days after the attack and required multiple various surgeries.
###
TONY RACKAUCKAS, District Attorney
Susan Kang Schroeder, Chief of Staff
Office: 714-347-8408
Cell: 714-292-2718