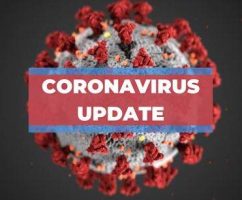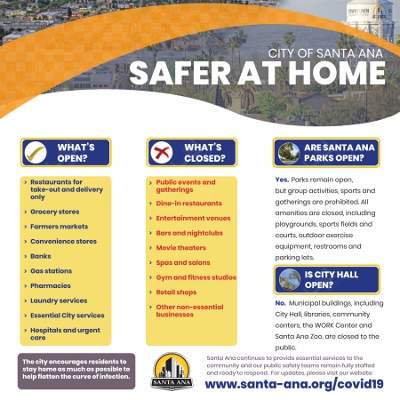 The City of Santa Ana urges everyone to stay home to prevent the spread of COVID-19 and to protect public health.
California Gov. Gavin Newsom issued an executive order requiring non-essential businesses and services to close and residents to stay home, except for essential activities.
City of Santa Ana municipal buildings are closed to the public and all park amenities are closed. Outdoor, unenclosed park areas remain open to the public, but group sports and gatherings are prohibited. People should stay at least 6 feet away from others.
For COVID-19 updates and resources from the City of Santa Ana, go to www.santa-ana.org/covid19; follow @CityofSantaAna on Facebook, Instagram and Twitter; sign up to receive email and text alerts at Nixle.com; download the mySantaAna app; and join Nextdoor.com to connect with neighbors and get City news.
Quédese en Casa para Detener la Propagación del COVID-19
La Ciudad de Santa Ana insta a todos a quedarse en casa para evitar la propagación de COVID-19 y proteger la salud pública.
El gobernador de California, Gavin Newsom, emitió una orden ejecutiva que requiere que los negocios y servicios no esenciales cierren y que los residentes se queden en casa, excepto para las actividades esenciales.
Los edificios municipales de la Ciudad de Santa Ana están cerrados al público y todas las instalaciones de los parques están cerradas. Las áreas de los parques de Santa Ana al aire libre y no cerradas permanecen abiertas al público, pero los deportes grupales y las reuniones están prohibidos. Las personas deben mantenerse al menos a 6 pies de distancia de los demás.
Para actualizaciones y recursos de COVID-19 de la Ciudad de Santa Ana, visite www.santa-ana.org/covid19; siga @CityofSantaAna en Facebook, Instagram y Twitter; inscríbase en Nixle.com para recibir alertas por texto y correo electrónico; baja el app mySantaAna; y únase a Nextdoor.com para conectar con vecinos y recibir noticias de la Ciudad.