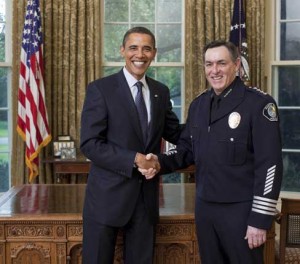 An inside source at Santa Ana's City Hall reported tonight that Santa Ana Chief of Police Paul Walters was selected to serve as interim Santa Ana City Manager, at a special session of the City Council.  He will continue to serve as Chief of Police while the search for a new City Manager continues.
Walters was one of several candidates for interim city manager, including Parks and Recreation Director Gerardo Mouet.
Walters has done a great job over the years managing an increasingly tight police budget.  Some years ago he managed the building of the Santa Ana police headquarters and jail.  He has consistently kept the jail full by renting extra space out to the feds.
The City Council was initially split but they rallied at the end and got behind Walters.
There is however concern in some quarters as to whether or not Walters will be able to be objective.  The SAPD uses up half of the city's budget.  Will he be able to cut the SAPD's budget, if he has to?
And what will Walters do with regard to stopping the unjust seizure of immigrants' cars at the SAPD's DUI checkpoints?