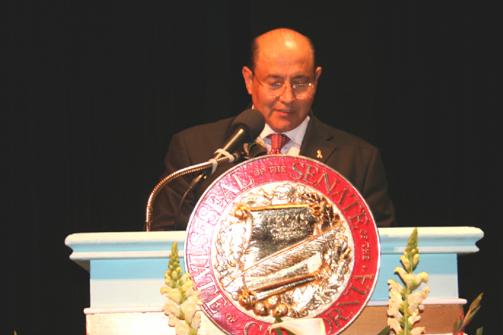 Senator Lou Correa,­­­­­­­­­­­­­­­­ ­ 34th Senate District
For Immediate Release: June 15, 2010
Contact: Lina Hamilton, (916) 651-4034
Correa Supports Senate Committee Passage of Measures to Assist Returning Veterans
PHOTO FROM ARCHIVE: California State Senator Lou Correa delivering his remarks in early June during the Orange County first annual fair and conference "A Celebration of Service – Providing Answers to Veterans Issues"
SACRAMENTO, CA – Today, the Senate Public Employment and Retirement Committee, chaired by Senator Lou Correa, approved two bills to assist veterans returning from active duty fighting the War on Terror. Assembly Bill 1729 (AB 1729) will help returning veterans to obtain state jobs or promotions. Assembly Bill 1739 will ensure that when Los Angeles County employees serving on active duty are killed or disabled, those employees and their families will receive their county death and disability benefits.
Senator Correa, co-author on the two bills, stated, "These brave men and women are far from home, fighting to make sure that we are safe. We need to help our soldiers who return home to get back to their jobs and families, and care for the needs of those who come back hurt or who pay the ultimate sacrifice."
On June 5, 2010, Senator Correa organized in Orange County the "1st Annual Fair and Conference to Address Veterans Issues" at the Santa Ana Community College. During this conference Orange County veterans learned and heard from local, state officials and agencies about answers to current veterans' issues, as well as the benefits and opportunities available to them.
AB 1729 will be hard by the Senate Committee on Veterans affairs next week. AB 1739 will be considered by the Senate Floor in the next few weeks.
Senator Lou Correa represents the 34th District which includes the cities of Anaheim, Buena Park, Fullerton, Garden Grove, Santa Ana, Stanton and Westminster.
# # #
Lina Hamilton
Legislative Aide
Office of Senator Lou Correa, 34th District
(916) 651-4034
lina.hamilton@sen.ca.gov