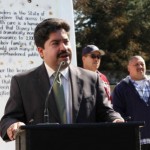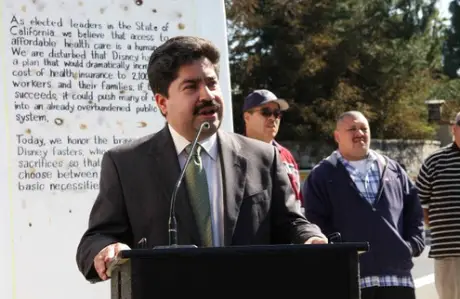 For Immediate Release: June 1, 2011
For More Information Contact: Carol Chamberlain – Office: (916) 319-2069, mobile: (916) 804-5355
Bill to Keep OC Fairgrounds in Public Hands Passes the Assembly
Vote Sends Strong Message to Governor and Courts
SACRAMENTO – State Assemblyman Jose Solorio (D-Anaheim) presented to his colleagues on the Assembly Floor AB 35, a bill that could offer an alternative to the state other than selling the Orange County Fairgrounds to a private company. After debate, the measure passed with a strong bipartisan vote of 62 to 3.
"Total OC Fair revenues from 2005 to 2010 were more than $168 million, and the Orange County Fair Board says they are willing to share with the state," Assemblyman Solorio explained. "Why sell an asset for a one-time revenue boost when the fair could provide an ongoing annual revenue stream to the state and keep our fairgrounds in public hands?"
AB 35 simply states that in addition to considering a sale of the fairground property, the state could also have the option of considering a revenue-sharing agreement if it generates at least $100 million over the course of 40 years. Since July 2009, when the Legislature passed AB 4X 22 authorizing the Department of General Services (DGS) to sell the Orange County Fairgrounds, more than 50,000 people signed petitions and postcards opposing the sale, and 26 cities (including Costa Mesa) and the Orange County Board of Supervisors passed resolutions against it.
The 2009 legislation does not mandate a sale, and DGS, currently entertaining a bid from Facilities Management West, can undo a tentative agreement at any time prior to the close of escrow. To complicate matters, the Facilities Management West deal is being held up in the Fourth District Court of Appeals. The Court of Appeals will decide if the sale process was done properly and according to state law.
"The Governor and the Legislature really need to find solutions to save our fairs throughout the state," says Assemblyman Solorio. "I'm proud my colleagues are supporting our efforts to provide the Governor with more options to save the Orange County Fair, and are also talking about the importance of the statewide fair network."
The OC Fairgrounds is a local economic engine in Orange County and the City of Costa Mesa. In 2010, more than $2.8 million was generated in sales tax revenue from the five-week annual fair, and the Orange County Market Place, a weekend open-air market on the property, has paid the state more than $110 million in rent in the last 42 years. Last year's annual fair enjoyed more than one million visitors, generated more than $75 million of additional income and created the equivalent of 2,112 jobs.
AB 35 now heads to the Senate for debate.
State Assemblyman Jose Solorio is the Chair of the Assembly Insurance Committee and also serves on the Assembly Appropriations and Transportation committees. He represents the Sixty-Ninth Assembly District, which includes the cities of Anaheim, Garden Grove, and Santa Ana. For more information about Assemblyman Solorio, visit www.assembly.ca.gov/solorio.