City of Santa Ana, Downtown Orange County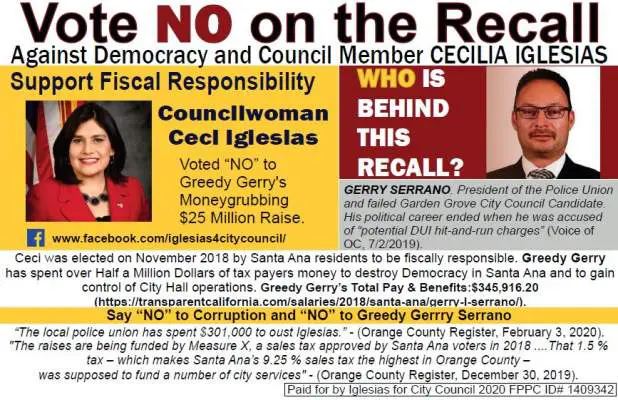 Advisory: SOCALGAS PERFORMS PIPELINE INTEGRITY WORK IN SANTA ANA
Isn't it time for Santa Ana to have a voice on the O.C. Board of Supervisors?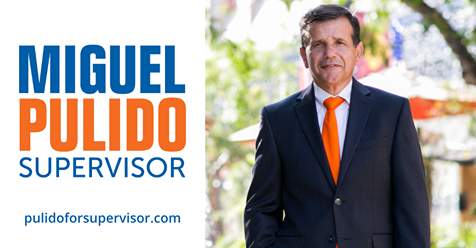 Paid for by Miguel A. Pulido for Supervisor 2020 (ID #1422663)
LOS ANGELES, April 25, 2012 – Southern California Gas Co. (SoCalGas) is performing pipeline integrity work along Grand and Chestnut avenues in the city of Santa Ana through August 8, according to company officials. The work, which began April 1, ensures compliance with the U.S. Department of Transportation's Pipeline Integrity Program and the Office of Pipeline Safety to ensure continued safe and reliable natural gas service.
Advertisement
Is your employer a mess? Call Sasooness.
In the state of California for every 5 hours worked an employee must get a 30 minute, uninterrupted lunch break. For every 3 hours worked an employee must get an uninterrupted 10-minute rest break. Working over 8 hours in a day or 40 hours in a week is due overtime. Don't let your employer screw you! Give us a call at 323 746-8099.
En el estado de California por cada 5 horas de trabajo su patrón le debe permitir tener un receso de media hora sin interrupciones. Si trabaja más de 8 horas en un día o más de 40 horas de trabajo en una semana su patrón le debe pagar tiempo y medio. No deje que su patrón abuse de su trabajo. No importa que no tenga papeles. Usted tiene derechos. Llamenos al 323 746-8099.
Westbound traffic lanes along Chestnut, west of Grand, are closed to traffic for the duration of the project, along with the number two lane on southbound Grand Ave. The number two eastbound lane on Chestnut Avenue will remain open.
Work is being performed during the hours of 7 a.m. and 4:30 p.m., Monday through Thursday. Natural gas service to homes and businesses is not expected to be interrupted; however, traffic may be impacted with some lane closures on Grand and Chestnut. Every effort is being made to reduce any inconvenience to area residents and businesses.
The pipeline inspection work is part of SoCalGas' pipeline integrity program launched in 2003. As part of the program, more than 1,200 miles of SoCalGas' major natural gas lines running through populated areas will be inspected through the use of sophisticated internal inspection tools. The tools record data on the condition of the pipeline, such as wall thickness, as it moves through the pipeline. After inspection, the data is analyzed and any necessary repairs are made. Federal law requires these pipelines to be re-inspected every seven years.
"Safety of our customers, the communities we service, and our employees is our top priority," said Jennifer Vaughn, public affairs manager for SoCalGas. "We appreciate the assistance and cooperation of city and county officials and first responders as we carry out this important pipeline safety work."
About Southern California Gas Co.
Southern California Gas Co. (SoCalGas) has been delivering clean, safe and reliable natural gas to its customers for more than 140 years. It is the nation's largest natural gas distribution utility, providing service to 20.9 million consumers connected through nearly 5.8 million meters in more than 500 communities. The company's service territory encompasses approximately 20,000 square miles throughout central and Southern California, from Visalia to the Mexican border. SoCalGas is a regulated subsidiary of Sempra Energy (NYSE: SRE).
###
Contact Information:
Denise King
Southern California Gas Co.
877-643-2331