FOR IMMEDIATE RELEASE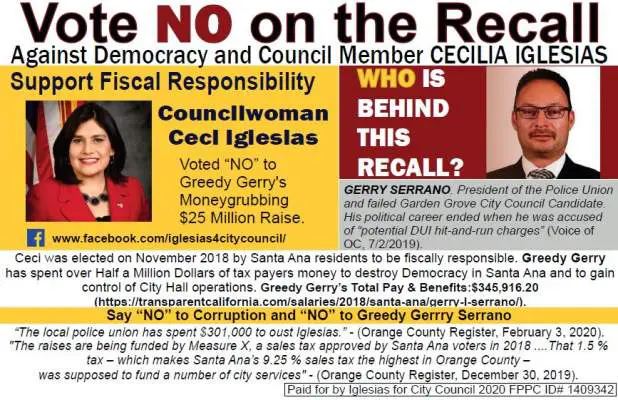 Controversial Smash-Hit Play
Isn't it time for Santa Ana to have a voice on the O.C. Board of Supervisors?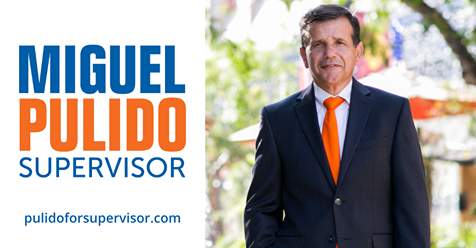 Paid for by Miguel A. Pulido for Supervisor 2020 (ID #1422663)
CONFESSIONS OF A MORMON BOY
Advertisement
Is your employer a mess? Call Sasooness.
In the state of California for every 5 hours worked an employee must get a 30 minute, uninterrupted lunch break. For every 3 hours worked an employee must get an uninterrupted 10-minute rest break. Working over 8 hours in a day or 40 hours in a week is due overtime. Don't let your employer screw you! Give us a call at 323 746-8099.
En el estado de California por cada 5 horas de trabajo su patrón le debe permitir tener un receso de media hora sin interrupciones. Si trabaja más de 8 horas en un día o más de 40 horas de trabajo en una semana su patrón le debe pagar tiempo y medio. No deje que su patrón abuse de su trabajo. No importa que no tenga papeles. Usted tiene derechos. Llamenos al 323 746-8099.
Premieres in Orange County at Church of the Foothills
Santa Ana, California (August 1, 2010) – Church of the Foothills is proud to present the Orange County premiere of the controversial smash-hit CONFESSIONS OF A MORMON BOY. With performances on Friday October 1st and Saturday October 2nd at 8PM, MORMON BOY tells the inspiring true story of playwright and star Steve Fales life, told with humor, song, and The Book of Mormon.
After excommunication, divorce, prostitution, and drugs, a sixth-generation Utah Mormon reclaims his kids and "Donny Osmond" smile.
Steven Fales could have been the poster child for Mormondom: Eagle Scout, international missionary, BYU graduate, husband to the daughter of a celebrated Mormon author, and father of a beautiful boy and girl. In his autobiographical one-man play, Fales tells the captivating story of his failed attempt to overcome his "same-sex attraction" through "reparative therapy" which resulted in his divorce and excommunication from the Mormon Church.
After his perfect Mormon world fell apart, Fales took his pain and confusion to New York City where he quickly descended into the gay underworld of escorting and drugs. Both touching and funny, Mormon Boy is a 90-minute reclamation saga of a Latter-day prodigal son that ends in a moment of self-revelation that "hits us between the eyes like a shot with a two-by-four" (Chicago Sun-Times). The play was originally directed by Tony Award Winner Jack Hofsiss (The Elephant Man).
The book of the play, Confessions of a Mormon Boy: Behind the Scenes of the Off-Broadway Hit (Alyson Books) is a Lambda Literary Award Finalist.
For more information about the play go to www.mormonboy.com. Tickets are a suggested donation of $20.00. For reservations, please call the church at (714) 544-1319. Church of the Foothills is located in Tustin Hills at the intersection of Dodge Avenue and Newport Blvd, across from Foothill High School. The church address is 19211 Dodge Avenue, Santa Ana, CA 92705. www.chotf.org
REVIEWS
"An exceptional achievement to rank beside the best of the solo genre. Wrenchingly honest, hilariously jubilant, and utterly clear-eyed. "
— Los Angeles Times
"An astonishing generosity of spirit . . . with fierce comedy and sharp intelligence. He bares his soul . . . feels like a sacred gift."
— Boston Globe
"An uncommonly powerful, gripping, and very moving piece of theatre."
— Chicago Tribune
"The story couldn't be more timely."
— San Francisco Chronicle
"A masterful story teller and one hell of a writer. Sexy and harrowing. A play that transcends religion, gender, and sexuality."
— San Francisco Examiner
"Fales is such a perceptive writer. As moving as it is funny."
— New York Daily News
"Compelling confessional theatre. Fales knows how to sell it."
— New York Times
"Brokeback Mormon . . . a rare blast of lyricism."
— Variety
"A quintessentially American once-upon-a-time of sexual identity crisis and selfhood."
— Village Voice
"A tale about finding redemption in honesty."
— Atlanta Journal-Constitution
"Steven Fales is a hero."
–Austin Chronicle
"Breathtaking. Makes you want to say Amen."
–San Diego Union-Tribune
"An absorbing tale about the universal human search for belonging. Gay or not, Mormon or not, it is something we can all relate to."
–Salt Lake Tribune
"The stuff of great theatre"
— Associated Press
"Rare and skillful. A fine writer and actor."
–Chicago Sun-Times
"A very funny, poignant and surprising story of self-acceptance
and the happiness in finding spiritual connections. Rich in universality."
–Las Vegas Review-Journal